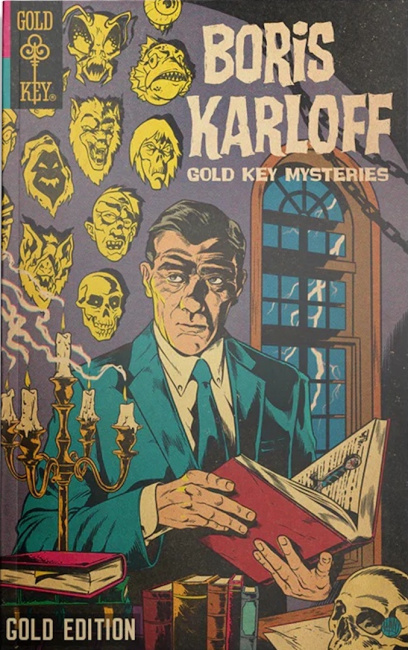 A quartet of entrepreneurs who are also comics fans recently purchased what was left of Gold Key, a comics publisher that from 1962 to 1984 put out a stream of comics, both original (
Doctor Solar, Turok: Son of Stone
) and licensed (
Walt Disney, Star Trek
).
The four new owners, Chief Communication Officer Adam Brooks, Editor in Chief Michael Dynes, Chief Creative Director Arnold Guerrero, and Chief Executive Officer Lance Linderman, plan to relaunch Gold Key as, once again, a publisher of original and unlicensed comics. And they plan to do it in the direct market: Although their first project is being crowdfunded via Kickstarter, Brooks told ICv2 that Gold Key is in talks with both Diamond and Penguin Random House for distribution to the direct market and that they plan to have a Gold Key Retailer program that will offer benefits from swag to artist signings.
Their first project is
Boris Karloff's Gold Key Mysteries,
an anthology that will be funded on Kickstarter starting on March 28. The book, which will be available as a Kickstarter exclusive hardcover, will contain three original stories by a group of creators that includes Michael W Conrad, Steve Orlando, Artyom Trakanov, Kelly Williams, Jok, Craig Hurd-Mckenny, Sergey Nazarov, and Kyle Arends. That's the beginning of what is planned as an ongoing series with each issue containing three complete stories and one continuing one featuring Karloff; the issues will eventually be compiled into trade paperbacks.
Dynes told ICv2 that while the new Gold Key does not have the rights to any of the original characters from the company's earlier incarnation, "we are pursuing deals for two more properties that were licensed by Gold Key. They are household names and we will keep shooting for more."

Brooks talked to ICv2 about Gold Key's publishing plans and the importance of the direct market to their business, as well as why they acquired the company in the first place, in a deal that started with a copy of Teenage Mutant Ninja Turtles #1.

Do you have distribution to the direct market?
We are in some communication right now with some distributors. We've looked at Diamond and Penguin, and we're in discussions with both, to make sure that we're taking care of our retailers, because obviously we want people to be able to walk through their comic shop and see Marvel, DC, and Gold Key.

So you definitely will have direct market distribution.
That's correct.

What would Gold Key comics offer to retailers?
What we would like to add to the comic shop is an opportunity to interact with us. So bringing back things like letters to the editor, sending Gold Key representatives to stores, sending our artists into stores, and really trying to have more of a personal touch.

Will your Kickstarter have a retailer tier?
We are definitely looking at retailers' tiers. Obviously, that's verified retailers.

We're also asking retailers that if they do like certain incentives, or they want to work with us, to reach out on our Instagram or our email, and we'll make sure that we get them set up as a Gold Key Dealer.

What benefit would that carry?
That carries benefits with swag, they get first emails about what's coming out what's being released, they get our preview that year. They'll be able to see what incentives are carry on the Kickstarters. And we can offer them certain discounts or in-store signings with our artists.

When do you plan on having your comics in stores?
Once the Kickstarter finishes, we'd like to do that as soon as possible. Right now we're talking about making sure we fulfill our Kickstarter, so I'm a little hesitant to give an exact date, but the work is being done. As soon as we fulfill those Kickstarter orders, then we'll move to those.

Why did you acquire Gold Key rather than just starting up your own comics business?
To be honest, it kind of fell in our laps. There's four of us owners, and we're all comic book lovers. We all collect, we read, we resell, we do all the things. So when one of my partners who had gotten TMNT #1 posted about it, someone reached out to him and was like, "Hey, I got the license to Gold Key. Is that something you'd be willing to trade or talk about?" We all sat down and said, "Alright, what's the potential for this?" That's when we decided to go ahead and run with it.

Did you grow up with Gold Key comics?
Totally.

What part of that do you want to continue?
The four of us grew up with Gold Key comics, the cartoon comics, the stuff that was licensed from Disney or Hanna Barbera, the painted covers, we all remember. There was a lot of love and nostalgia for it, and we thought, we really want to take care of this brand. We really wrestled the last year and a half about how do we do this in a way that honors Gold Key but also is something fresh and new and different [and is] really focused on stories. The market right now is kind of focused on covers, and we really wanted to be focused on stories.

Why did you start with the Boris Karloff comic?
We realized the first property that we were going to come out with really needed to tie in that old Gold Key feeling and bridge it to the now, so starting with a property from then seemed right. And the Boris Karloff family, Sarah Karloff, was super excited to do that.

Do you plan to crowdfund all your comics?
We don't feel like we have to crowdfund everything, and at the same time, there's so much value in getting communities involved. So we're looking at that as an option. But that's not necessarily something we're going to do with everyone.

Do you think there's going to be a nostalgia aspect with Gold Key?
There's always that challenge of people going, "Oh, Gold Key. My grandpa had that." And while that's definitely cool, we want to create comics for the young readers today and be like, "Hey, we're not just what you saw on your grandpa's nightstand. We're also great stories, and the art here is awesome." So we can revive this brand, not just squeeze out what's left of it. A lot of old things are being redone, but they're being redone the same way they were done before. We want to redo some of these but in a way that's new.

Are you focusing on any particular genres?
Right now we're looking at the original Gold Key brand. They had horror—we're calling it "terror." We're also looking at murder mystery. To be honest, we're looking at everything right now, because we're new to the market. We definitely want to stay true to our roots, but at the same time, we'd love to bring back westerns. We're looking at the historic comics like Turok. We also love sci fi, like Doctor Solar. We're not necessarily bringing back those brands, but we're definitely looking at that genre, about what we can do and what that might look like, today.

[NOTE: This interview has been edited for length and clarity.]