Games Workshop announced the
Seraphon
boxed set for the
Warhammer: Age of Sigmar
tabletop miniatures game at Adepticon 2023, offering the first chance collectors have to get some of the new models for the soon-to-be expanded Seraphon line.
The Seraphon boxed set offers a variety of reptilian warriors suitable as the core of an army or reinforcements for an existing force. Led by a Slann Starmaster on its floating throne, the force includes 10 Saurus Warriors, 5 Raptadon Chargers, and 5 Raptadon Hunters. Both sets of Raptadon-riders are designed so they can be modelled in either configuration using the components inside the box.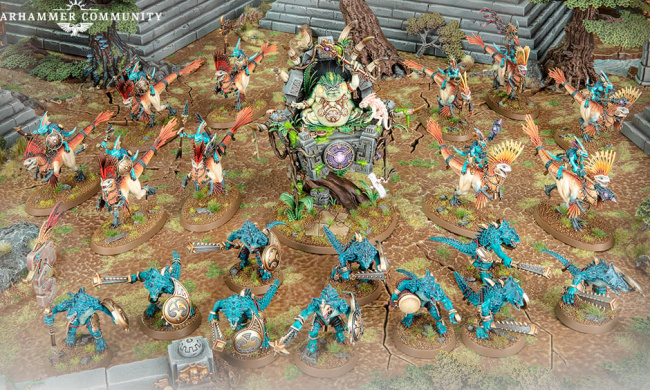 In addition to the 21 models, the
Seraphon
set features a special edition battletome describing the troops, a pack of warscroll cards for all of the units in the new battletome, and a deck of 52 enhancement cards. Release date and MSRP was not announced.
Other Age of Sigmar sets released this month, including new Khorne and Slaanesh troops (see "Games Workshop Announces Two 'Warhammer Age of Sigmar' Boxed Sets on Preorder").
Upcoming plans for Warhammer 40,000 were also revealed at Adepticon (see "Games Workshop Announces New Edition of 'Warhammer 40,000'" and "Beastly End to 'Kill Team' Gallowdark Arc").