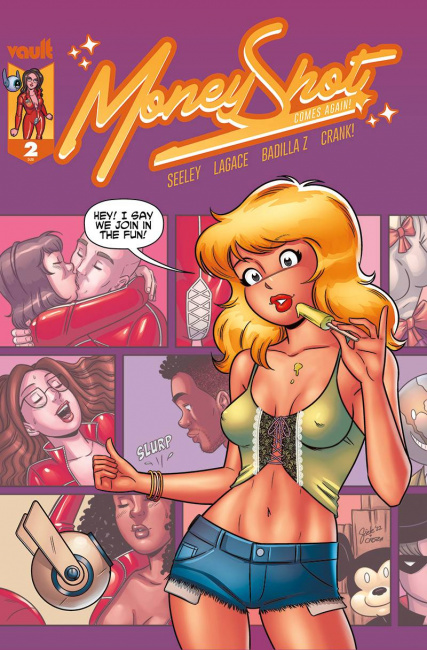 The underground comix character Cherry Popstar (once known as Cherry Poptart but renamed shortly after her creation) will return to comic shops in
Money Shot Comes Again
#2, the new arc of the sexy sci-fi comedy written by Tim Seeley, with art by
Menage a Trois
artist Gisele Lagace, published by Vault. Cherry, who has been known to comment on current events between her sexual escapades, appears in this story as a billionaire's AI companion and offers her thoughts on how to run the universe. The series will launch on April 26, and issue #2 will go on sale on May 31 with a main cover by Lagace and variants by Seeley and Skylar Partridge.
Cherry first appeared in Cherry Poptart, an adults-only parody of then-popular teen comics, in 1982. Issues #1-13 were published by Last Gasp. Kitchen Sink Press picked up the series and published issues #14 and 15 as well as reissuing the earlier ones. Issues #16 and on are published by Welz's Cherry Comics, with the most recent issue being #23.
Vault launched Money Shot in 2019 and the first issue sold nearly 20,000 copies through Diamond (see "Vault Plans Money Shot Collection, Second Arc").