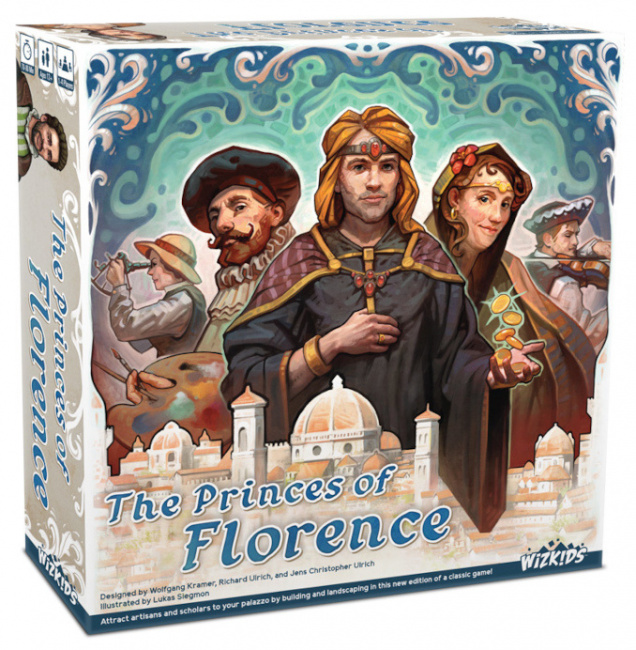 WizKids will release a new edition of
Princes of Florence
, consisting of the original board game (released in the U.S. by Rio Grande Games over 20 years ago) and two expansions, with new artwork and graphic design, in July, the company announced. The full package of the core game and the expansions
The Muse and the Princess
and
Cooperative Building
will retail for $54.99.
In
Princes of Florence,
players are trying to become the most renowned prince or princess of Florence during the Renaissance by climbing the social ladder. In each round, players participate in an auction, construct Buildings, and cultivate Landscapes to create the most attractive Principality; and invite artists and scholars to produce great works, further enhancing their reputations. The player who accumulates the most Prestige Points after seven rounds in the winner.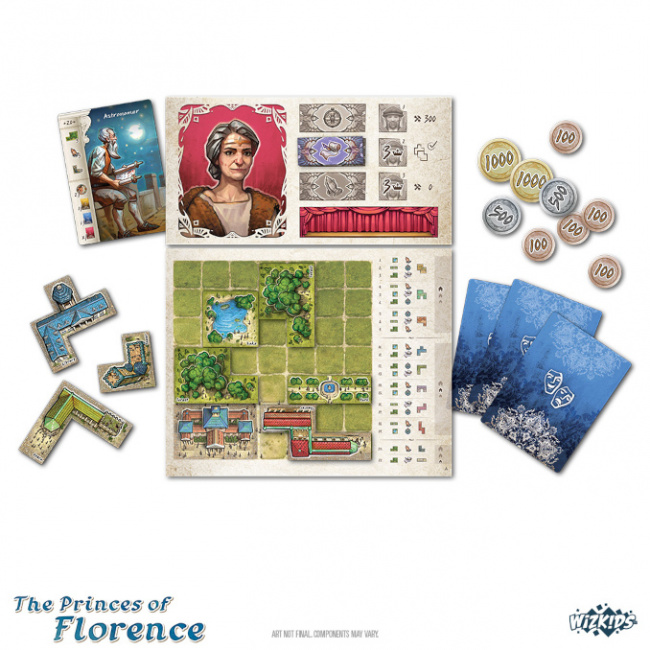 Boxes include a game board, 5 double-sided Player boards, 5 double-sided Principality boards, 30 Buildings, 18 Landscapes, 12 Freedoms, 5 double-sided Reference Sheets, 6 Builders, 7 Jesters, 5 Player Screens, 60 Cards, 5 Pawns, 5 Fame Disks, 1 Round Marker, 50/100 Disks, 1 Starting Player Marker, 58 Money, 21 Automa Cards and 1 Die, and 6 Character Cards.
Princes of Florence
is designed by Wolfgang Kramer, Richard Ulrich, and Jens Christopher Ulrich, with art by Lucas Siegmon. The game is for 1-4 players ages 12 and up, and plays in 70-90 minutes.
Click Gallery below for component pics!