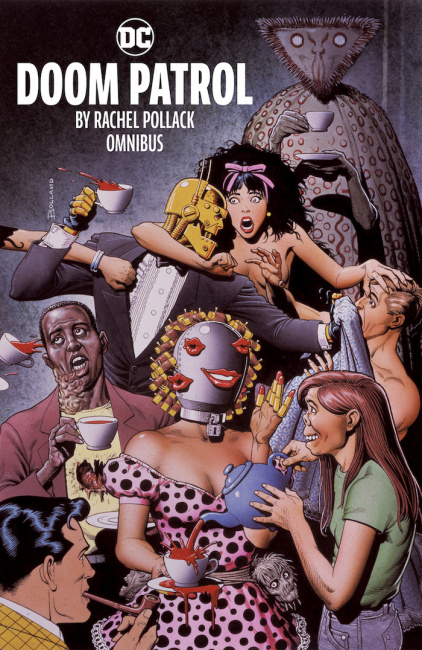 Rachel Grace Pollack, writer of comics and novels, Tarot expert, and transgender activist, died on April 7 at the age of 77.
In the realm of comics, Pollack is best known for her two-year run on Doom Patrol, which DC published as a collected edition in 2022 (see "DC to Collect Rachel Pollack's Run on 'Doom Patrol'"). She took over the series from Grant Morrison in 1993 and wrote it until it was canceled in 1995. During that time she introduced one of the first transgender superheroes, Coagula, and wove issues of sexuality, identity, and the nature of humanity into the stories. Pollack also wrote two Vertigo Visions one-shots, one (with Mike Allred) that revived the character Brother Power the Geek and the other revisiting the origin story of Tomahawk, and she co-wrote (with Tom Peyer) the first 11 issues of Vol. 4 of The New Gods. In 1997 she wrote the five-issue series Time Breakers, with art by Chris Weston, a series about a team of time travelers who deliberately try to create time paradoxes as a way to break time itself. The limited series was published by the DC imprint Helix.
Pollack was born in Brooklyn, NY, in 1945 and earned a degree in English from New York University and a master's degree from Claremont Graduate University. Her first published work was the short story "Pandora's Bust," which appeared in the magazine New Worlds, edited by Michael Moorcock, in 1971. When she was in her early 20s, Pollack transitioned and moved to London; there she became a leader in trans activism and co-authored, with writer Roz Kaveney, the early trans manifesto "Don't Call Me Mister You Fucking Beast."
In addition to comics, Pollack was a novelist, teacher, and an expert on the tarot. Two of her novels won major awards, the 1997 World Fantasy Award for Best Novel for Godmother Night and the 1989 Arthur C. Clarke Award for Unquenchable Fire; another novel, Temporary Agency, was nominated for a Nebula Award in 1994. She was a professor of creative writing at Goddard College, and she taught seminars on the Tarot, often working with author Mary K. Greer. She also wrote a number of books and essays on the Tarot.
Pollack was married to Judith Zoe Matoff and lived in Rhinebeck, New York, at the time of her death.