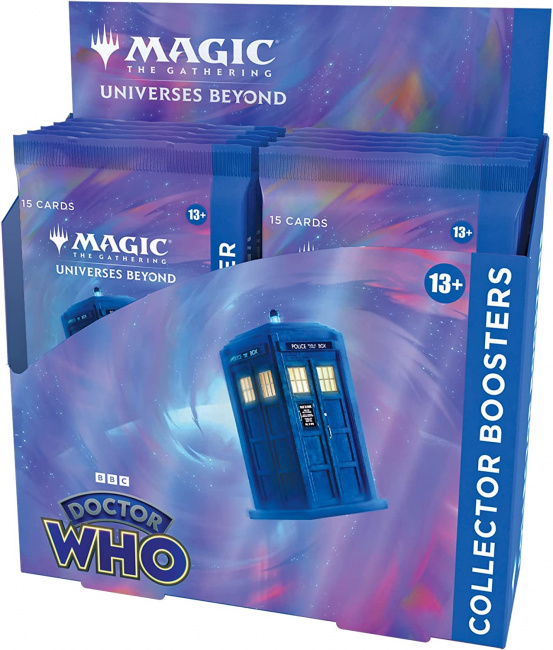 Wizards of the Coast revealed
Magic: The Gathering - Universes Beyond Doctor Who
Commander Decks and Collector Boosters, which will release into retail on October 13, 2023.
WotC first announced these new product for Magic: The Gathering back on August 18, 2022 when they also announced the licensing collaboration with the BBC (see "'Doctor Who'"). The Commander Decks feature a 100-card pre-constructed deck that has themed art and mechanics geared toward the Doctor Who universe. The cards showcase some of The Doctor's greatest allies and villains, and each deck has 50 new cards.
There will be four different decks in all. Timey-Winey focuses on the Ninth, Tenth, and Eleventh Doctors, and Masters of Evil features The Doctor's villains. Blast from the Past has cards that showcase the first eight Doctors, and Paradox Power shows off the power of the Twelfth and Thirteenth Doctor. These decks are preordering on Amazon for $50.29.
The Collector Booster displays offer up rare and special alt-frame cards. Every pack comes with 7 to 14 cards of rarity rare or higher and special card treatments including 6 to 7 extended-art cards. Packs also come with two showcase TARDIS cards as well as 3 to 10 special Surge foil cards. Boosters come with 15 cards, and displays are being preordered off of Amazon for $242.49.
For more information on future releases of Magic: The Gathering products, check out ICv2's 2023 calendar (see "'Magic: The Gathering' 2023 Release Calendar").
Click on Gallery below for full-size images!