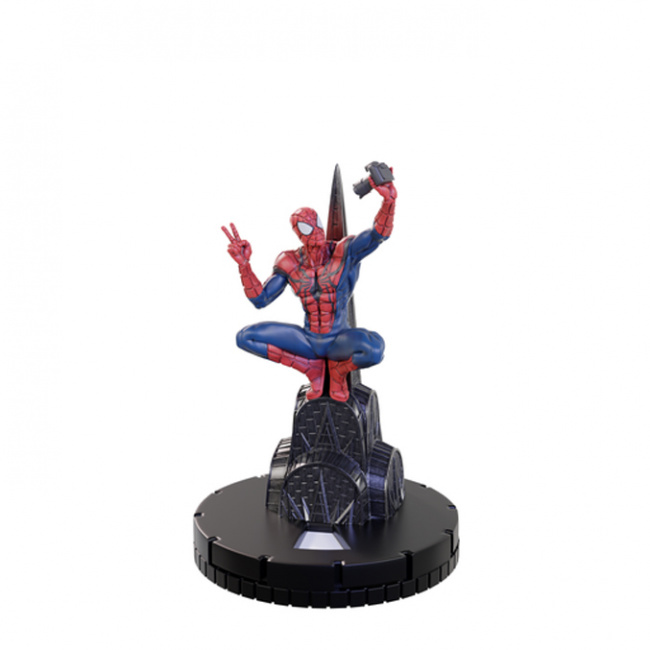 WizKids has updated details on both their
Marvel HeroClix Starter Set 2024
and
DC HeroClix Starter Set 2024
, which will be headed to retail in November 2023
ICv2 had previewed these sets in the GAMA Expo 2023 galleries (see "WizKids Showcase Photos, Part 1"). The two entry level starter sets come with everything two new players would need to learn and then play a game of HeroClix. Each set features four new ready-to-play HeroClix figures plus dice, tokens, and maps.
The starters introduce Mini Maps, which are scaled-sized maps to help players learn the basics of combat and movement. As players become more adept at Heroclix, they can interlock the eight map tiles in the set to make one tournament legal-sized map to play on. The two sets also contain multiple gameplay scenarios, a full color PAC and HeroClix Rulebook, and exclusive Batman dice (in the DC set) and Spider-Man dice (in the Marvel set).
The sets have pre-constructed teams, and each character figure features two levels of gameplay (basic and advanced). The Marvel set showcases figures of the Captain Marvel, Iron Man, Black Panther, and Spider-Man characters, while the DC set has figures for Superman, Batman, Wonder Woman, and Harley Quinn. Each of these sets will retail for $39.99.
Click on Gallery below for full-size images!