Abrams' Amulet young-readers imprint is home to most of its kids' graphic novels, as well as their not-quite-a-comic sibling Diary of a Wimpy Kid. Their Fall 2023 catalog includes two Marvel graphic novels, Marvel Super Stories (see "Marvel, Abrams Team Up for Middle-Grade Superhero Anthology") and Spider-Man: Quantum Quest!, by Mike Maihack, the second in a series of Mighty Marvel Team-Up graphic novels that will launch in June with Spider-Man: Animals Assemble! Also on deck are Above the Trenches, the 12th book in the Nathan Hale's Hazardous Tales series,and Adventuregame Comics: The Beyond, the second in Jason Shiga's interactive-adventure series, the first volume of which has been nominated for a 2023 Eisner Award (see "2023 Eisner Nominees").
Here are four brand-new titles that are coming up in Fall 2023.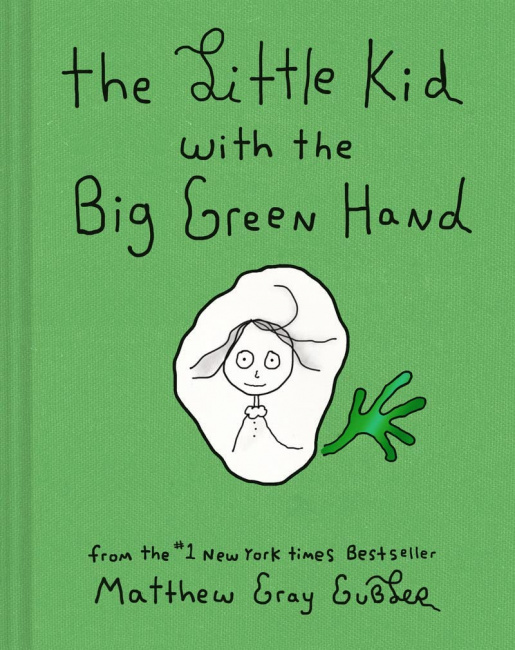 The Little Kid with the Big Green Hand,
is by Matthew Gray Gubler, who played the profiler Dr. Spencer Reid in the show
Criminal Minds.
His first book,
Rumple Buttercup,
topped the New York Times Children's Middle Grade Hardcover best-seller list when it first came out, and he has 3.4 million followers on Instagram. The Little Kid with the Big Green Hand is about two friends, Chuck and Lenore, who learn to see the world through others' eyes. Gubler hand-drew the book, and Abrams is publishing it as a full-color, 224-page hardcover with a ribbon bookmark. The book, which is rated for ages 6 and up, is slated for September 2023 release and will have an MSRP of $19.99.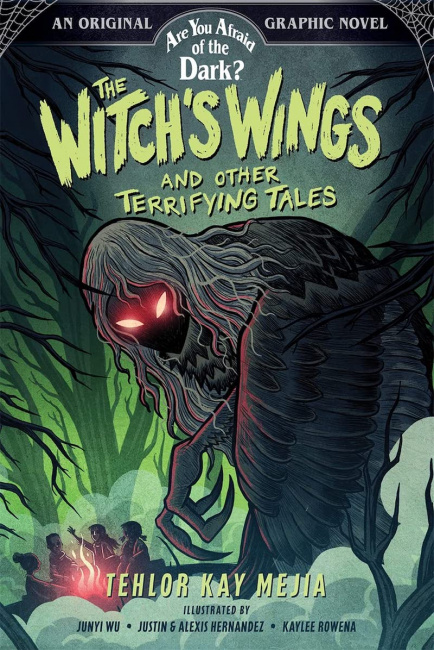 The Witch's Wings and Other Terrifying Tales,
by Tehlor Kay Mejia and artists Junyi Wu, Justin and Alexis Hernandez, and Kaylee Rowena, is the first of a series of graphic novels based on the Nickelodeon series
Are You Afraid of the Dark?
Mejia is a Mexican American author of best-selling middle grade and YA novels, and
The Witch's Wings,
which is rated for ages 10 and up, collects three stories based on Hispanic urban legends and folklore. The full-color, 192-page Jacketed hardcover will go on sale in October 2023 with an MSRP of $24.99.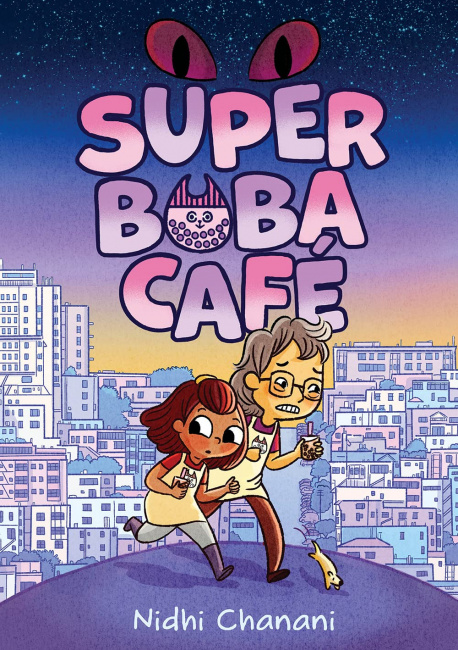 Super Boba Café,
by Nidhi Chanani, is a delightful urban fantasy tale about a girl who goes to spend the summer with her grandmother in San Francisco and decides to boost her grandmother's boba café's business with the help of social media and a litter of kittens. What she doesn't know is that her grandmother has to feed a boba-loving monster who will cause earthquakes if he gets hungry. Chanani is the creator of the critically acclaimed
Pashmina
(see "
Review: 'Pashmina' GN
"), and
Super Boba Café
was one of ICv2's Best Bets picks (see "
Kids Week: Best Bets for Middle-Grade Graphic Novels in 2023
"). The 224-page, full-color jacketed hardcover, rated for ages 8-12, will go on sale in October 2023 with an MSRP of $24.99.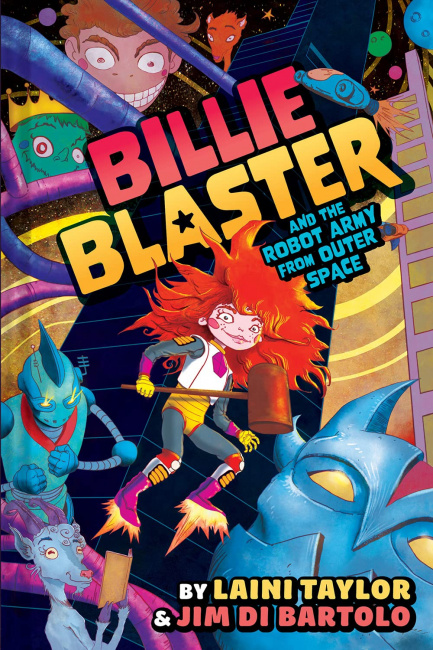 Billie Blaster and the Robot Army from Outer Space,
by writer Laini Taylor and artist Jim Di Bartolo, follows a child genius whose science-fair rivalry sets off an intergalactic war. The story mixes comedy, action, and science and is intended for readers aged 8 to 12. Taylor is a best-selling author of YA fiction and a National Book Award finalist. The 208-page, full-color hardcover will be released in August 2023 with an MSRP of $17.99.