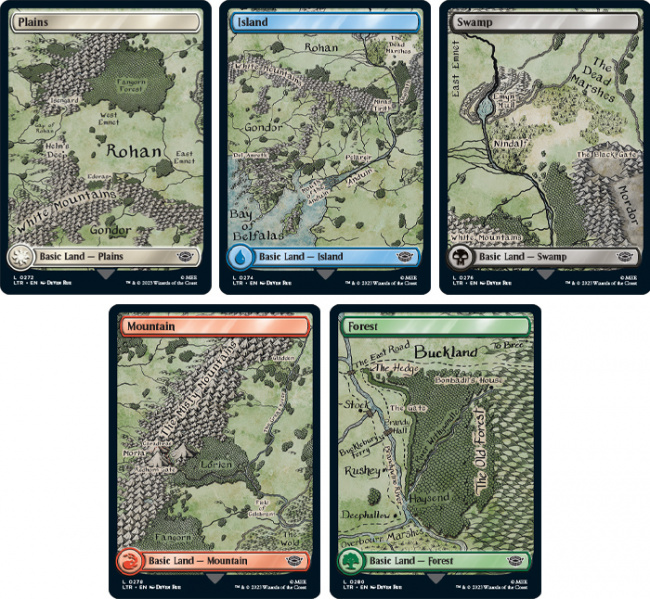 Wizards of the Coast revealed the card treatments for
Universes Beyond: The Lord of the Rings: Tales of Middle-earth,
a new set for
Magic: The Gathering
, which will release on June 16, 2023.
The two IPs joining forces created many opportunities for unique artwork on cards. To begin, this set will feature Full Art Middle-earth Map Lands. These lands, illustrated by Pauline Baynes, highlight different map locations in Middle-earth on the basic land cards. The lands can be found in Draft, Set, Jumpstart, and Collector Boosters.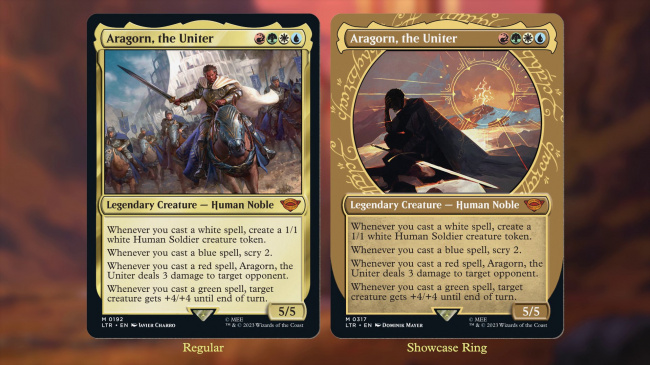 The set will also feature Showcase Ring cards. These cards have ring frames that highlight legendary cards, and the ring frames have Tengwar lettering on them. There will also be Discover Realms and Relics box toppers included in display boxes, which are powerful cards from
Magic's
history reprinted as borderless LotR cards. There are a total of 30 different cards contained in the box toppers Draft, Set, and Collector Booster Displays. WotC will also offer a Buy-a-Box promo in the form of Lorian Brooch (Trailblazer's Boots).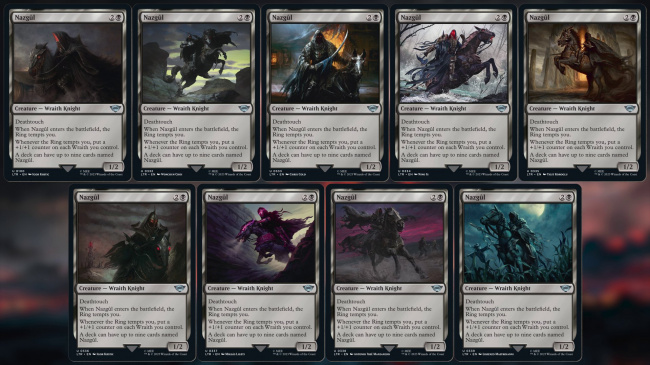 As previous revealed, there will be a series of Ring cards printed, including The One Ring (see "
'Lord of the Rings' Cards
"). The set will also include nine different art variations of a Nazgul card, which can be found in Draft, Set, and Collector Boosters. This set will also have tons of Borderless cards and Borderless Scene cards. The Borderless Scene cards can be pieced together to create epic battle scenes from LotC.
For retailers, the dozens of art variations included in this set should be a boon for sales, at least initially. Based on the cards spoiled thus far, this set is shaping up to be more a casual collector set than anything else. LotR has a wide fan base, which stretches far beyond that of Magic: The Gathering. There should be plenty crossover purchases from LotR collectors, who will likely be looking for cards with art that they just find attractive. Higher end LotR collectors will, like Gollum, be seeking precious, rare Ring cards for their expected high monetary value.
For more information on future releases of Magic: The Gathering products, check out ICv2's 2023 calendar (see "'Magic: The Gathering' 2023 Release Calendar").
Click on Gallery below for full-size images!