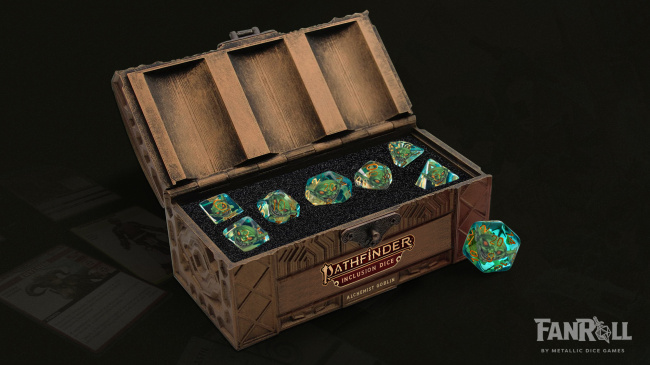 Paizo, Inc. has partnered with FanRoll Dice for
Pathfinder RPG
dice and accessories, which include a line of high end dice, dice trays, and more.
The team at Paizo have been impressed with FanRoll's line of dice and accessories that have been released into the market thus far (see "'Liquid Core Elixir Dice'"), and have decided to entrust them with Pathfinder RPG license for more dice and accessories. The FanRoll team has developed a line of dice and accessories for the brand, which include a set of Goblin Dice (which have the iconic Pathfinder goblin's head embedded in them), a dice tray, a dice scroll, and a Mutagen-themed liquid core set. One of the feature products in this line will be the Pathfinder: Mega D20 Goblin Die that is 55 mm die with a goblin head inside of it.
"If they (Paizo) cracked open the door, we were prepared to bust through it." said Neal Hoffman, CEO of FanRoll Dice, about the deal.
Plans for the product pipeline include dice towers and more dice sets coming in the future. The first wave of these products will start to hit stores on September 1, 2023.
Click on Gallery below for full-size images!