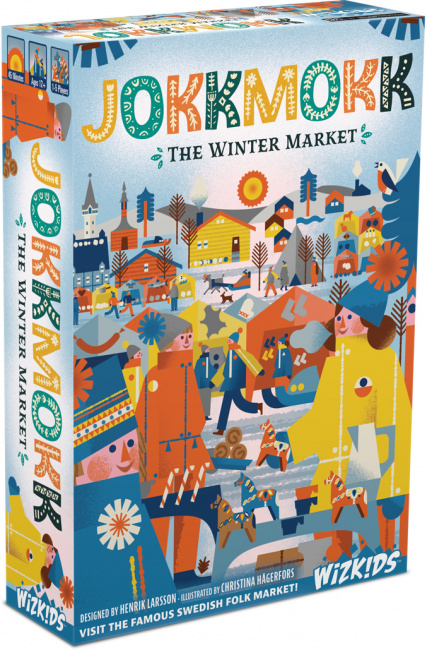 WizKids will release
Jokkmokk
, a new board game, into retail in October 2023.
In
Jokkmokk: The Winter Market
, players take their families through this 400 year old once-a-year marker and folk festival. Players have two meeples that represent family members, which they move around the board to claim experiences, food, souvenirs, and more. There are two decks that populate the market with different goods and attractions while the game moves from morning to evening. The goal of the game is to collect valuable sets of cards from vendor stalls as they do holiday shopping. Players gain victory points from collecting matching sets, majorities, valuable cards, and matching up quilt patterns, and the player with the most points win the game.|
The game box comes with a game board, 10 meeples, 18 set reference cards, 204 game cards, a player token, a midgame scoring token, 12 5P tokens, and 10 50P/100P tokens. This game is for one to five players, ages 12 and up, and plays in 45 minutes. It retails for $34.99.
WizKids will also release
Nightmare of the Frogmire Coven - Maps & Monsters Expansion,
a new expansion for
Dungeons & Dragons: Onslaught
(see "
Battle the Froghemoth
").
Click on Gallery below for full-size images!