If "follow the money" is a good business axiom, well, then that's just what Direct Market comic stores did, following both populations and money from cities to suburbs.

The first "comic stores" were a strange mix. Many were used bookstores that started specializing in comics. Some were used record stores, thrift shops, or antique stores that did some comics business. Many, especially in the San Francisco Bay area, were head shops that started stocking the underground comics and 'zines that were a part of that scene.

If you're interested in a fun fool's errand (or perhaps starting a fight among some old-school nerds), just try to nail down what the first comic store even was. Many give credit to the Cherokee Book Shop in Los Angeles, which started dealing extensively in back issue comics in the early 1960s. By 1968, Seven Sons Comic Shop had opened in San Jose, and later that year, the San Francisco Comic Book Company. Both put "Comic" right in the title, putting a name to a new type of business.

By 1973 and Phil Seuling's Sea Gate Distributors, well, this thing called a "comic store" was for real. And almost all these nascent stores shared a commonality: They were located in big cities. A certain threshold population was needed to have enough people interested in this crazy thing that was a "comic store." You could pull that off in Dallas, Denver, or Detroit. Not so much down in Dogpatch.

But demographics change. Aforementioned Detroit is an extreme example, but it lost 32% of its population between 1970 and 1990, the same period in which comic stores started opening and booming. Those people didn't just drop off the map. They moved, largely to the suburbs.

"The suburbanization of comic stores paralleled the suburbanization of the country," says Diamond Comic Distributors CEO Steve Geppi. "Inner cities became a tough area, so you start moving to the suburbs."

Geppi, of course, should know. He opened his first store, Geppi's Comic World, in the basement of a TV repair shop in Baltimore on July 1, 1974. He eventually moved into distribution, and his Diamond Comic Distributors became the de facto exclusive distributor to the industry for over 20 years. Back in the 70s, and with a handful of competitors popping up in Baltimore, Geppi quickly turned his eye to the suburbs.

"You don't want a store too close to the other guy, and if expanding, you didn't want a store too close to where you already were," Geppi says. "I started expanding to the suburbs with Silver Spring, Maryland in '77, Crystal City, Virginia in '78. Any area that had a reasonably sized population could have a store."

New entrepreneurs of that vintage sometimes skipped the city entirely. Gary Colabuono opened Moondog's Comics in suburban Mt. Prospect, Illinois outside Chicago, in 1978. Colabuono had been frequenting Comic Kingdom in Chicago, owned by Joe Sarno, back in the day. The store was across the street from a porno movie theater.

"That's just how it was! That was a typical comic shop locale," Colabuono says. "But who was the comic buyer in 1978? I think it was a guy like me, who lived in the suburbs and had to go all the way into the city, maybe an hour each way, to go to a comic store."

Colabuono was working as an ad salesman for a daily newspaper in Chicago's Northwest suburbs, knew the business climate there well, and at Sarno's urging and with his mentoring, rolled the dice and opened his store. He paid $125 a month rent for 400 square feet.

"You can't fail, right?," Colabuono laughs today. "You go out of business, you lose a couple thousand bucks, max. That was the beginning."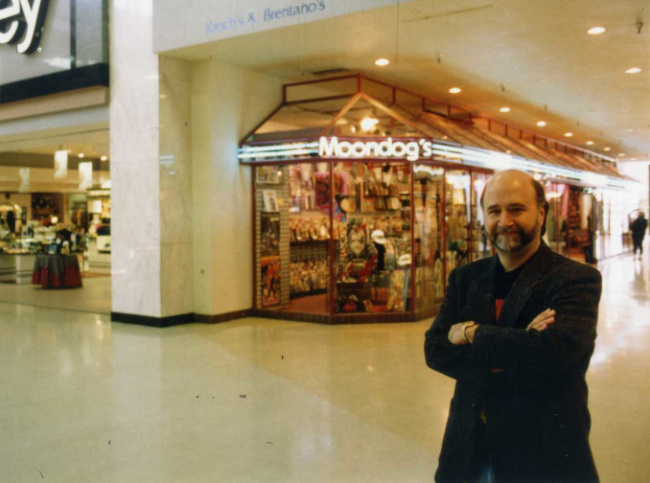 Colabuono did not fail. By 1991, Moondog's was a six-store chain. By 1994, he sold to Classics International Entertainment, which branded other stores with the name. By 1996, there were 21 Moondog's stores spanning five states, 20 of which were in the suburbs.
"The strategy of Moondog's in the marketplace was totally different than my competitors," Colabuono says. "I wanted stores where a mom with a stroller was buying goods for her family. I wanted them to come into my stores and feel comfortable, and it wouldn't be some dingy, back-room place. So I expanded into malls and high-volume places."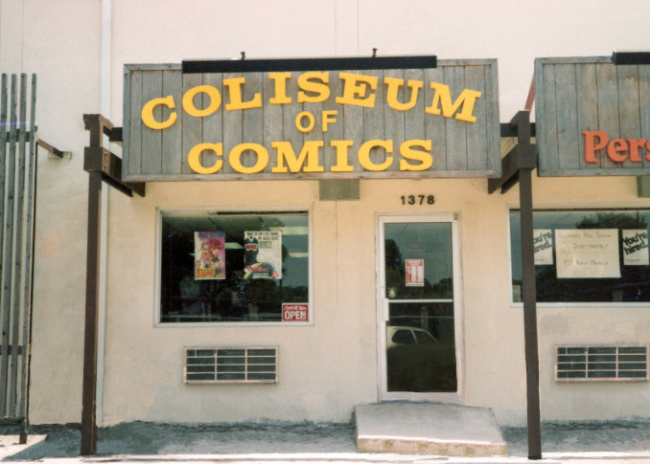 Coliseum of Comics, with 11 stores across Florida, also shared in the fruits of suburbia. It opened in 1983 in the city of Orlando in a leaky building in a high-crime area. After six months, owner Phil Boyle moved one mile to a similar colorful location.
"I was between a record store and a lingerie-and-sex-aids store," Boyle says. "The record store was rather symbiotic; that was cool. And there was a topless joint on the other side of the record store, so starting about 5 o'clock, we'd get a parade of girls going back-and-forth between the lingerie store and the topless joint. Work clothes and all. But I was there for six years."
By 1989, Boyle has set his sights on a 'port to the suburbs.
"Our second store we opened in Kissimmee, near Disney for the tourist traffic," he says. "As we announced, another store announced they were opening. So Kissimmee went from no stores to two overnight."
The move to the suburbs can be kinda-tracked with Murray Bishoff's 1979
National Comic Shop Register
, more recently brought to the fore by
Dan Gearino
. Bishoff cataloged 439 comic stores in '79, about 80% of which were in cities (You can debate whether Lansing or East Lansing qualify as "cities" while you enjoy store names such as "Trade-a-Tape" and "The Cogitator").
Today, 80% urban is nowhere near the norm. Graham Crackers Comics has 12 locations, eight of which are in the suburbs, and the historic chain
Shinder's
topped out at 14 stores, 11 of which were suburban. But now… the pendulum may be swinging back a bit.
"I think a lot of that stuff has come full circle," Steve Geppi says. "Inner cities are revitalizing, and there are great new locations being built in old buildings. I'm seeing new shops open up in cities."
Phil Boyle loves his largely suburban stores, but also notes the importance of "where we came from."
"Complaining about the half-comic-store-half-head-shop of the '70s is akin to complaining about old black-and-white movies," Boyle says. "The fact is, they were great for their time and exactly what was needed to get to where we are today. We're standing on the shoulders of giants, even though some of those giants might march to the tune of a slightly different drummer. They paved the way."
Click Gallery below for store photos!