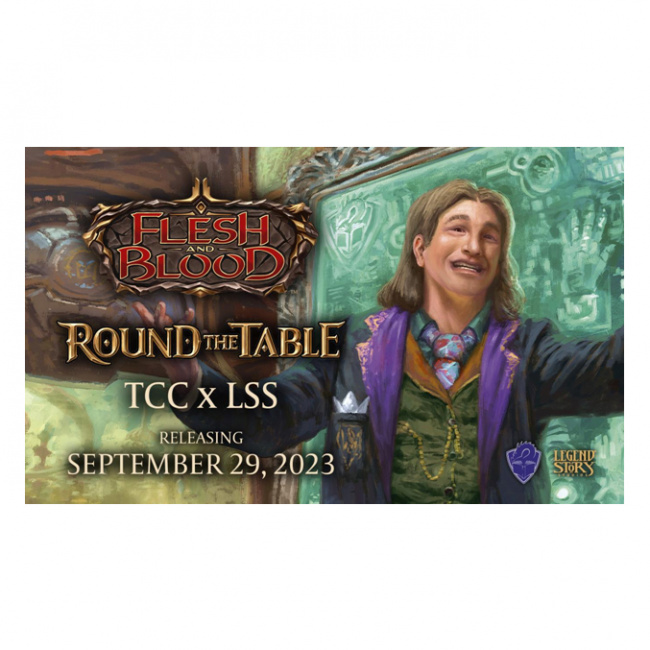 Legend Story Studios revealed the release date for the
Flesh and Blood
Round the Table: LSS x TCC
box set, which will hit stores on September 29, 2023
This boxed set was first announced in the Pick Hits section of the summer issue Internal Correspondence. It is a collaboration set with Brian "The Professor" Lewis of Tolarian Community College YouTube channel fame. The set will feature new heroes Professor Teklovossen, Brevant, Civic Protector, Melody, Sing-along as well as a reprint of fan-favorite Ira, Crimson Haze. This set also showcases a four-player format for the game, which is aimed at casual and veteran players alike.
"It's an honor to collaborate with The Professor, one of the world's greatest advocates of social gaming and a vocal champion of local game stores as important community hubs where people can get round the table to play great games together," said LSS CEO James White. "It's this shared vision that brought The Professor and Legend Story Studios together to create this project, and is why Round the Table: TCC x FAB will only be available from local game stores around the world."
The boxed set contains four ready-to-play blitz decks that have more than 100 new cards, a 24" playmat, and a Teklo Industries 1000ct storage box. This release will be followed by the release of Bright Lights, a week later (see "'Flesh and Blood TCG' Booster Set").