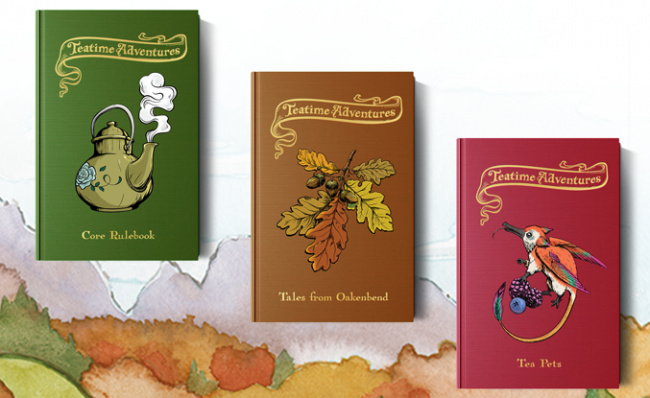 Snowbright Studios launched four
Teatime Adventures RPG
books onto BackerKit. The crowdfunding campaign was fully-funded in 38 minutes, and sits at $17,125 with107 backers (about $160 per backer).
These new books are a follow-up to the original
Teatime Adventures RPG
, which was a finalist for Best RPG in the Origins 2023 awards (see "
2023 Origins Award Finalists
"). The first book offered in this campaign is the Core Rulebook 2E, which is an over 150 page book that lays out the rules and has an introductory solo adventure. The second book,
Tales from Oakbend
, is a collection of four adventures set in Oakbend.
The third book offered is
Tea Pets
. This book features a new way to play
Teatime Adventures
inspired by farming games like
Stardew Valley
and
Harvest Moon.
It features more than 20 tea pets, new Kitchen Magic and Harmony Magic spells, and printable maps. The fourth book for purchase in this BackerKit is the
Player's Pack Craft Book
. The book is meant to be destroyed as players cut crafts, snip Verdant Isles holiday decorations, and design bookmarks contained within the book.