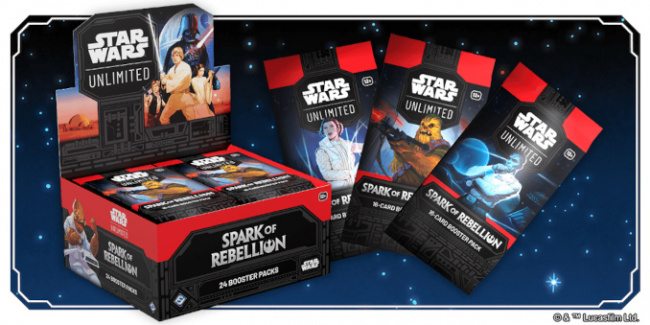 Fantasy Flight Games has revealed the product configuration, including rarity scheme, for its
Star Wars: Unlimited TCG
. Booster packs will each include 16 cards with a leader card and a base card with an Experience or Shield token, 9 Common, 3 Uncommon, and 1 Rare/Legendary card, and 1 foil card, potentially featuring any rarity card in the set.
There are also two forms of parallel rares: Hyperspace variants of any card in the deck, which have an alternate frame with a larger space for art; and Showcase variants of leader cards, which have alternate art, a unique frame, and a special foil treatment.
Each pack includes and a base card to support draft and sealed play; as long as a deck includes those two types of cards, the rest of the deck can be any cards, so booster packs are the only products needed to run a draft or sealed event.
Approximate rarities are as follow:
Foil – 1 per pack
Hyperspace – 2 in 3 packs
Legendary – 1 per 8 packs
Hyperspace Rare/Legendary – 1 per 15 packs
Foil Hyperspace Rare/Legendary – 1 in 50 packs
Showcase – 1 per 12 boxes
Fantasy Flight began showing the game and its play at Gen Con (see "'Star Wars: Unlimited' Prototypes").

Click Gallery below for each card type!