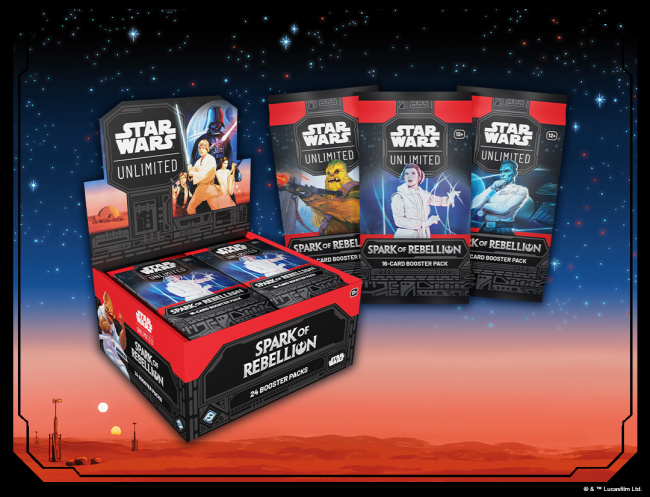 Fantasy Flight Games revealed the product line details for
Star Wars Unlimited: Spark of Rebellion
, which will hit stores in 2024.
The first set of the new Star Wars TCG was showcased at Gen Con 2023 (see "'Star Wars: Unlimited' Prototype Cards"). In September, FFG released product configurations and rarity details for the booster packs (see "Rarity Scheme"). The whole product line for the set has been revealed, which includes a fairly standard array of SKUs for a budding TCG. The line is as follows:
Spark of Rebellion Booster Packs (MSRP $4.99 per pack): Booster packs come with 16 cards, which include commons, uncommons, at least one rare or legendary, a leader, a base, and a foil card. The boosters also feature cards with various showcase treatments.
Spark of Rebellion Two-Player Starter (MSRP $34.99): This entry level product comes with two 50-card pre-constructed decks, which have some exclusive cards not found in boosters. It also contains damage counters, quick-start rules, 2 paper playmats, and 2 deck boxes.
Spark of Rebellion Prerelease Box (MSRP $29.99). These prerelease kits feature 6 booster packs, 2 promo cards, quick-start rules, damage counters, a deck building guide, and a deck box. They will be available for pre-launch events a week before release.
Click on Gallery below for full-size images!