Seven Seas Entertainment, which seems to have cornered the American market on cat manga, has just announced a new title:
Monster Cats,
by Pandania, the creator of
Yokai Cats
and
The Evil Secret Society of Cats
(see "
Manga for Kids
"). Both those books were full color, kid-friendly (rate 10+) manga done in the 4-koma format, with a vertical four-panel gag comic on each page. Pandania's manga are basically cute, funny riffs on the notion that cats are secretly evil, and presumably
Monster Cats
will be in the same mold, featuring cats with the characteristics of banshees, yetis, and other mythic beasts. The first volume will go on sale in May 2024 with an MSRP of $14.99.
Seven Seas also announced two other manga licenses, the BL one-shot
Marriage to Kitsune-sama
by the creative team Ken Homerun, due out in June 2024, and the fantasy series
Re-Living My Life with a Boyfriend Who Doesn't Remember Me,
by Eiko Mutsuhana, Gin Shirakawa, and Yugiri Aika, which will launch in July 2024.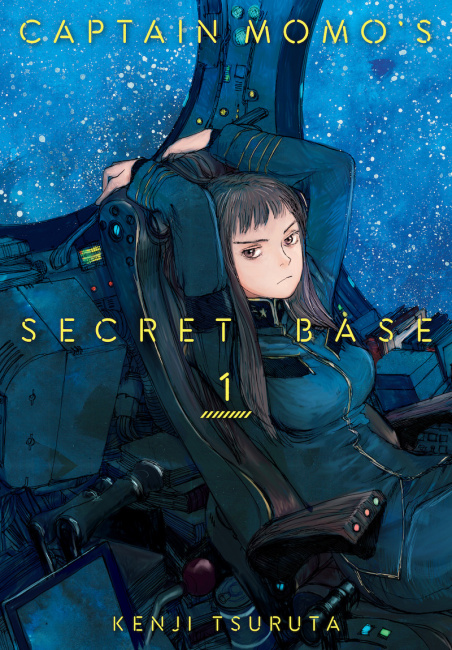 Dark Horse Comics has also announced a new manga license, and it does involve a cat, although probably not an evil one:
Captain Momo's Secret Base,
by Kenji Tsuruta, is a slice-of-life story about a woman who works from her home office, cat by her side. It's the year 3019, though, and her home is aboard a spaceship, where she has to deal with the usual workplace annoyances and distractions. Tsuruta is the creator of
Wandering Island
(see "
Dark Horse Gets 'Wandering Island'
"), which was nominated for a 2017 Eisner Award, as well as another series published by Dark Horse,
Emanon.
He has a special talent for creating detailed, moody environments occupied by equally moody young women, and Dark Horse is publishing this series as oversized (5 3/4" x 8 1/4"), slim (140 pages) volumes. The first volume of
Captain Momo's Secret Base
will be released on May 15, 2024, with an MSRP of $14.99.