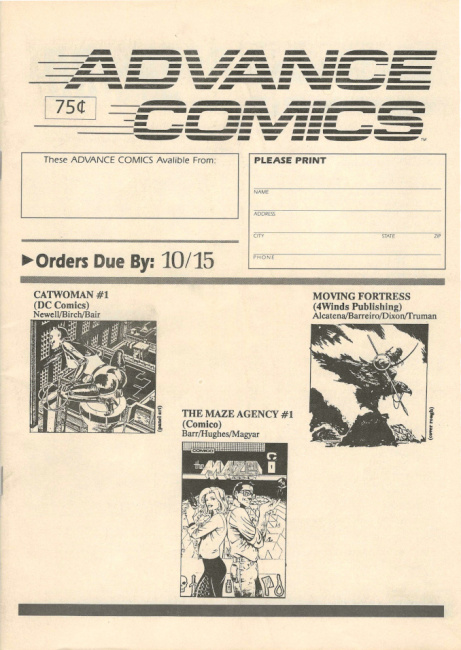 ICv2 CEO Milton Griepp has made a significant donation of Capital City Distribution publications and papers to the comics collections at Columbia University's Rare Book & Manuscript Library. The donation includes monthly advance order forms and catalogs, including Capital City Distribution
Orderpaks
and
Advance Comics
, from 1981 through 1996;
New Weekly Releases
from 1984 through 1996; and sales records from 1985 to 1996.
"Capital City Distribution carried an extremely broad range of comics and other publications," Griepp said of the donation. "The materials I'm donating to Columbia are important primary documents on the publishing output of the comics industry during a key period in its history. By donating them to this esteemed institution, I'm making sure that they're available to historians, writers, and researchers as part of this major comics collection."
The comics collections at Columbia University's Rare Book & Manuscript Library contains the papers of writers, illustrators, cartoonists, publishers, editors, researchers, fans, and more. The goal is to provide an idea of comics' complexity as an industry and as a community. To that end the collection offers the work of artists and writers such as Chris Claremont, Al Jaffee, Jerry Robinson, and Wendy and Richard Pini; publisher Kitchen Sink Press and editor Charles Kochman;
New Yorker
cartoonists Charles Saxon, Mort Gerberg, Joseph Farris, and Nurit Karlin; over 2500 editorial cartoons; researchers Larry Tye, Bill Schelly, and Hames Ware; fanzines from the collections of John Fantucchio and Bill Schelly; and ephemeral materials such as a flong for the blue plate of a 1931
Alley-Oop
Sunday and the comic-book quarterly and annual reports generated by Marvel Comics after they launched a successful IPO in 1991.
Columbia University Rare Book & Manuscript Library Comics and Cartoons Curator Karen Green reflected on the fit with the rest of the collection. "As important as it is to preserve and make accessible the original art and manuscripts of the creatives in comics and cartooning, it is equally important to record the operations of the industry itself, especially in this time of change," she said. "As channels of distribution proliferate, understanding the past can inform the present. The publications and data of Capital City Distribution shed light not only on what was published but also sales ranked by vendor, title, and geographic area. The Capital City Distribution records, together with the Mike Friedrich papers, the Kitchen Sink Press correspondence and records, and our fifteen years of Diamond
Previews
. capture aspects of the comics business not held elsewhere."
This donation is being made in the 50th year of the comics Direct Market. For more on the past, present, and future of the Direct Market, see "
Comics Direct Market 50th Anniversary
."