University Games announced two new game titles at Toy Fair in New York last week that will be available soon:
Faeries & Magical Creatures
and
Bob Moog's Dad Jokes Card Game.
Created by Glenn Drover (Racoon Tycoon, Mosaic, Railroad Rivals), Faeries & Magical Creatures is a strategy game in which players earn points by developing relationships with faeries and other creatures of the faerie realms and by creating beautiful gardens for the faeries to live in. During the game, players compete for area majorities by assigning kinship tokens to faerie groups, build their gardens using a tile-placement mechanic, and build their own deck of faerie cards through drafting. The variety of actions are designed to offer multiple paths to victory.
Faeries & Magical Creatures features artwork by Annie Stegg Gerard (Mosaic, Raccoon Tycoon), and includes a main game board, 4 player boards, 160 tokens, 8 pawns, 48 garden tiles, 1 cloth bag, 5 faerie home tiles, and 76 cards. The game is intended for 2 to 4 players, ages 10 and up, and plays in about an hour. Faeries & Magical Creatures is published under the Forbidden Games mark.
Funding for the production of Faeries & Magical Creatures was raised through a Kickstarter campaign in July which raised $95,706 in pledged support from 1,275 backers (an average of $75.06 per backer).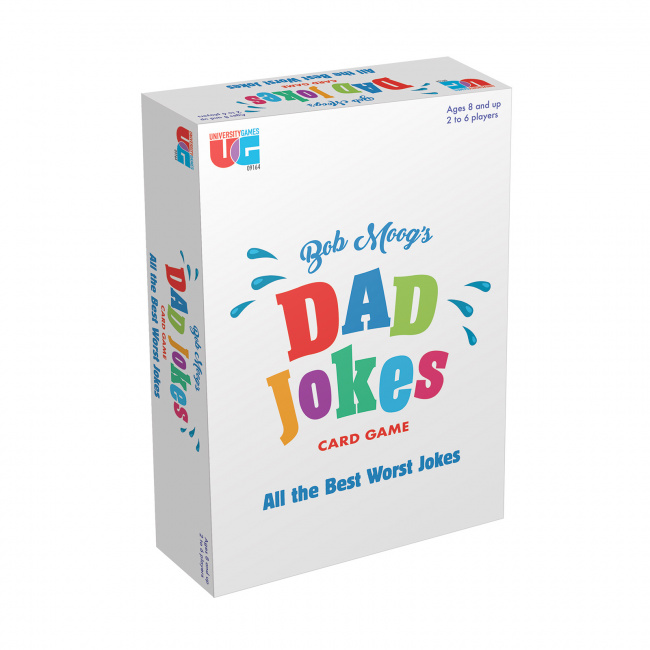 Bob Moog's Dad Jokes Card Game
brings the famously dry humor of the Dad Joke genre to the tabletop, describing itself as "All the Best Worst Jokes." In the game, players try to match "Dad Wisdom" with groan-worthy punchlines on the game cards. The first player who can successful put eight complete jokes together wins the game.
Designed by University Games founder and president Bob Moog, Bob Moog's Dad Jokes Card Game comes with 110 cards including 50 Dad's Wisdom cards and 50 Punch Line cards. It is intended for 2 to 6 players, ages 8 and up. MSRP is $15.00.
University Games recently launched a murder-mystery game called The Night Hunter (see "University Games Announces 'The Night Hunter'").