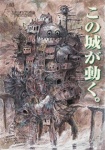 Reports from the Venice Film Festival indicate that one of the most popular films so far is Hayao Miyazaki's Howl's Moving Castle, the first animated film ever entered in the Festival's main competition. Miyazaki, who won an Oscar in 2003 for Spirited Away, sees the film as an expression of hope in a world wracked by war and economic dislocation.
Based on a novel by Diana Wynne Jones, Howl's Moving Castle is the story of teenage girl who is turned into a 90-year-old woman by a witch. She seeks refuge in the bizarre, walking, snorting castle of a wizard named Howl.
Toshio Suzuki, who produced the film for Studio Ghibli, told Reuters: 'It relates to the world we are living in today, it has a universal message. When we were making it there was the Iraq war and economic recession in Japan.'
Marco Muller, director of the Venice Film Festival, described Howl's Moving Castles as 'possibly the strongest anti-war statement in the entire festival.' A packed house of more than 1000 applauded for over five minutes at the end of the Venice screening, indicating that Miyazaki's film struck a chord with the predominantly European audience.
The current issue of Wired Magazine includes Howl's Moving Castle in a major article about three anime features that are bound to make a major impact in the U.S. this winter (the other two are Oshii's Ghost in the Shell: Innocence and Otomo's Steamboy).
Howl's Moving Castle will have its Japanese premier on November 20.