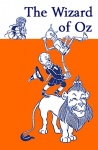 Variety reports that David Hayter, the screenwriter who wrote the first
X-Men
movie and is about to hand in a script for the sequel, is writing a pilot for a new television series based on the 45 novels in L. Frank Baum's
Wizard of Oz
series.
The WB network has green lighted the pilot and sees the series as a natural companion for its popular
Seventh
Heaven
series.
The WB brass wants to have the new
Oz
series ready for a mid-winter launch in order to take advantage of expected 'fantasy' boom created by the highly anticipated release of the first
Lord of the Rings
film. For his part writer/producer Hayter sees the
Oz
series as much darker and more closely related to the classic fantasies of J.R.R. Tolkien and C.S. Lewis than to the sunny musical film version created by MGM.
Quoted in
Variety,
Hayter talked about his script, 'I have reduced the childlike aspects of the movie and created a series that inhabits a more visceral world. Not many people realize that there were 45 books in the series, 16 of them written by L. Frank Baum that go way beyond what was covered in the film.
My goal is not to challenge the movie, but instead to create a world that acknowledges the film, but contemporizes
Oz
so that the movie seems a glamorized version of a very real, very dangerous place.'
Hayter's version of the Oz saga concerns a young woman in her twenties, who lands in Oz, and, when she is unable to escape, leads a revolt against the Wizard and the Emerald City. Tim Burton, the director of Planet of the Apes, was working on his own Oz-based television series several years ago, but opted to continue his moviemaking activities (Legend of Sleepy Hollow, POTA) and forgo working for the small screen.
No definite timetable for the new Oz series has been announced, though the WB executives clearly want to be able to launch the series for TV's second season, which begins in January.

The reason for this haste -- the folks at the WB obviously want to piggyback on the expected success of the first Lord of the Rings film, which bows in December (see 'Best in Shows').

If LOTR succeeds in the fashion that many industry observers think it will, it will inject a major dose of fantasy into the entire panoply of pop culture, and the Tales of Oz series (or whatever it will be called) could be a major beneficiary.

Stay tuned for more details as they become available.