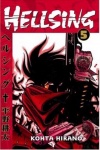 It's a measure of anime's growing worldwide influence (and the importance of foreign sales to anime production) that the new Hellsing Ultimate anime series was announced not in Japan, but at the international television and film fair known as Mip TV held every year at this time in France. The Anime on DVD Website made available a flyer by Geneon describing the new Hellsing Ultimate OAV series, which it is co-producing with Gonzo Digimation.
Although the number of new episodes was not announced (and the number of episodes in an OAV series can vary widely), the individual episodes will be 35 minutes in length -- and the flyer strongly suggests that the new series will follow the Hellsing manga much more closely than the original 13-episode Hellsing TV series from 2001, which was also distributed in North America by Geneon (then Pioneer).
The Hellsing manga, created by Kouta Hirano and published in the U.S. by Dark Horse and Digital Manga, is the best-selling horror manga in the U.S., and the 7 manga volumes published so far (in Japan) should provide plenty of material for additional Hellsing anime series.
Geneon also announced that it handling the release of Ergo-Proxy, a new anime series directed by Shukou Murase, the director of the highly successful Witch Hunter Robin; and produced by Manglobe, the company behind the new hit series Samurai Champloo.