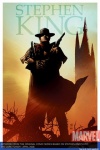 Marvel has announced three major 2006 projects with prose fiction authors -- two based on Marvel properties, and one exploring new storylines from Stephen King's Dark Tower universe. The King project will launch in April of 2006, featuring art by Jae Lee, and with contributions by Robin Furth, who produced a two-volume concordance to the Dark Tower novels for Scribner. This will be the first time that King has produced original content for a comic project. There are seven Dark Tower novels, released over the last 25 years. The storyline in the comics will take place during the youth of Roland Deschain, the hero of the novels.
New York Times bestselling author Eric Jerome Dickey will write a six-shot mini-series, launching in February, that tells the story of a romance between X-Men heroine Storm and T'Challa, the Black Panther, set in Africa. The art will be by David Yardin. Seven of Dickey's novels, Liar's Game, Between Lovers, Theives' Paradise, The Other Woman, Naughty or Nice, Drive Me Crazy, and Genevieve, have appeared on the New York Times bestseller list.
Novelist David Morell will write a Captain America project, in which Captain America helps American forces fighting in Afghanistan, for release in 2006. Morell wrote First Blood, the novel in which the character Rambo was created, and a number of other action, thriller, and horror novels, including The Brotherhood of the Rose, The Fifth Profession, Extreme Denial, Assumed Identity, and Creepers. He's received two Stoker novella awards from the Horror Writers Association.
These three projects join those by authors Jonathan Lethem (see 'Jonathan Lethem Pens Series for Marvel') and Charlie Huston ('Novelist to Revive Moon Knight') as recent examples of Marvel's recruitment of prose writers to pen comic projects.