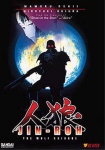 Bandai Entertainment is set to release Jin-Roh, the most complex and alluring theatrical science fiction anime since Ghost in the Shell, on March 5, 2002. Bandai will release Jin-Roh only in the DVD format, but there will be two editions: the standard DVD edition retailing for $29.98; and a Special Edition, which includes a Jin-Roh CD soundtrack, a 12-page booklet, and Special Edition Slip Case packaging. The Special Edition, which also includes interviews with the cast and creators as well as theatrical trailers will retail for $59.98.
Directed by Hiroyuki Okiura from a script by Mamoru Oshii (Ghost in the Shell), Jin-Roh (see 'Jin Roh Starts Theatrical Run') is an exercise in alternate history a la Phillip K. Dick (The Man in the High Castle). In this version of the twentieth century the axis prevails over the allies in World War II, but Japan is eventually conquered and occupied by the Nazis. The action in Jin-Roh takes place after the Nazis have left Japan and the story concerns the 'relationship' between a key operative in the government's counter terrorism unit and a girl who is affiliated with a revolutionary organization. Although there are some set pieces of violent action, Jin-Roh is more of a complex psychological thriller played out against a detailed background that would have cost hundreds of millions of dollars to create for a live action film.
Jin-Roh
is an example of how 'adult,' in the best sense of the word, anime can be as it tackles complex subjects set in imagined worlds of great density and depth.

Less kinetic than Akira, and without the dueling mechas of Evangelion, Jin-Roh subtly carves out its own territory as a truly original work of science fiction animation.