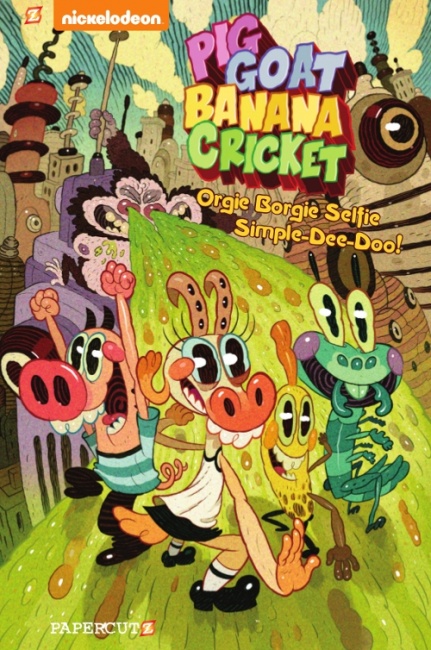 Pig Goat Banana Cricket #1: Orgle Borgle Selfie Simple-Dee-Doo! TP
Publisher: Papercutz
Release Date: June 28, 2016
Cover Price: $7.99
Writer: Eric Esquivel
Artist: Andreas Schuster
Cover: Andreas Schuster
Format: 64 pgs., 6"x9", Full-Color, Trade Paperback
ISBN: 978-1-6299-1482-4
Rating: All-Ages
The latest Nickelodeon series to become Papercutz graphic novels!
Lunatic Magazine
is having a special contest -- the top prize is a lifetime pass to the Arcave! All anyone has to do to win is take a photo of the legendary Orgle Borgle-a monster that has never been photographed before. This is a contest Banana must win at any cost-because, like, he really wants to win. But getting a picture of the Orgle Borgle may just be impossible! Plus many more stories featuring Pig, Goat, Banana, and Cricket!
Description of preview: 9 total pages (Cover and 8 interior pages).