Valiant offers a first look at the pages and covers of Livewire #1, the new ongoing series from rising star Vita Ayala (Supergirl, Submerged) and fan-favorite artists Raúl Allén (Wrath of the Eternal Warrior) and Patricia Martín (Secret Weapons)! On December 19th, Amanda "Livewire" McKee – one of Valiant's most important players since the days of 2012's Harbinger – ascends to the spotlight in her first-ever solo series in the publisher's history!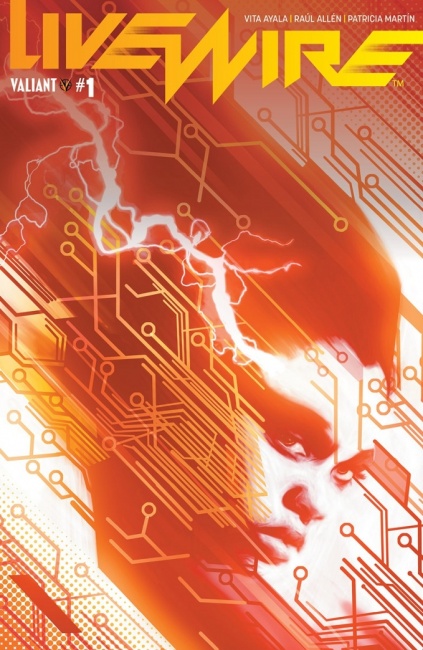 Livewire
#1
Publisher: Valiant Entertainment
Release Date: December 19, 2018
Cover Price: $3.99
Writer: Vita Ayala
Artist(s): Raúl Allén & Patricia Martín
Cover(s): (A) by Adam Pollina, (B) by Harvey Tolibao, B/W Variant Cover by Adam Pollina, Glass Variant cover by Doug Braithwaite. Blank Cover also available.
Format: 32 pgs., Full-Color
Rating: Teen+
Accomplice. Mentor. Savior. And now, Enemy of the State. Seeking to protect other vulnerable super-powered psiots like herself, Livewire plunged the United States into a nationwide blackout with her technopathic abilities, causing untold devastation. After choosing the few over the many, she must now outrun the government she served – and those she once called allies. With the whole world hunting her, what kind of hero will Livewire be… or will she be one at all?
Also, don't miss the
Livewire
#1-8 Pre-Order Edition Bundle (cover by Paulina Ganucheau) – eight massively expanded editions of Valiant's ongoing series that can only be ordered as a set through your local comic shop.
Description of preview: 6 total pages (5 cover, 3 interior pages, and 1 coupon page).