This November, Uncanny X-Men returns with a new ongoing series, bringing together nearly every mutant left on earth in a story that threatens to destroy them. It's an epic tale of mystery and tragic disappearance, with an adventure so earth-shattering, it could very well be the X-Men's FINAL mission!

In celebration of the launch of Uncanny X-Men #1, Marvel Comics will be offering a plethora of variant covers featuring artwork from many renowned comic book artists of the industry. Don't miss Uncanny X-Men #1, coming this November to a local comic shop near you!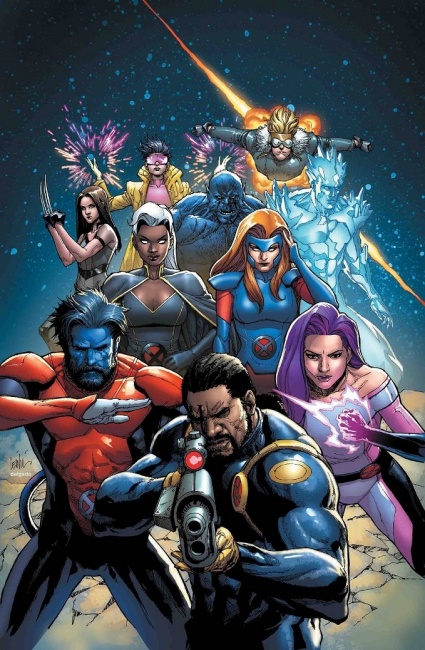 Uncanny X-Men #1
Publisher: Marvel Comics
Release Date: November 14, 2018
Price: $7.99
Writer(s): Kelly Thompson, Ed Brisson and Matthew Rosenberg
Artist(s): Mahmud Asrar, Mark Bagley and Mirko Colak
Cover(s) by Leinil Francis Yu (main), and various (variants)
Format: 72 pgs., Full-Color
Rating: Teen+
Click on the Gallery below to see the Uncanny X-Men #1 variant covers (released so far).
List of variants and retailer qualifier info:
Jen Bartel Variant (Retailers: May order 1 variant for every 50 copies you purchase between the combined total of Uncanny X-Men #1 reg cvr, any order all non-qualifier Uncanny X-Men #1 variants, and any earned meet/exceed Uncanny X-Men #1 variants.)

Jim Cheung Variant (Retailers: May order 1 variant for every 50 copies you purchase between the combined total of Uncanny X-Men #1 reg cvr, any order all non-qualifier Uncanny X-Men #1 variants, and any earned meet/exceed Uncanny X-Men #1 variants.)

Cliff Chiang Variant (Retailers: May order 1 variant for every 25 copies you purchase between the combined total of Uncanny X-Men #1 reg cvr, any order all non-qualifier Uncanny X-Men #1 variants, and any earned meet/exceed Uncanny X-Men #1 variants.)

John Tyler Christopher Action Figure Variant (Retailers: Meet or exceed 250% of your total orders of Avengers #5 with your orders of Uncanny X-Men #1 and this variant is order all you want. Must opt into party.)

Dave Cockrum Hidden Gem Variant (Retailers: Order what you want)

Marko Djurdjevic Variant (Retailers: Meet or exceed 250% of your total orders of Avengers #5 with your orders of Uncanny X-Men #1 and this variant is order all you want.)

David Finch Variant (Retailers: Order what you want)

Rob Liefeld Variant (Retailers: Order what you want)

David Marquez Wraparound Gatefold Variant (Retailers: Meet or exceed 250% of your total orders of Avengers #5 with your orders of Uncanny X-Men #1 and this variant is order all you want.)

Carlos Pacheco Variant (Retailers: May order 1 variant for every 25 copies you purchase between the combined total of Uncanny X-Men #1 reg cvr, any order all non-qualifier Uncanny X-Men #1 variants, and any earned meet/exceed Uncanny X-Men #1 variants.)

Joe Quesada Hidden Gem Variant (Retailers: May order 1 variant for every 500 copies you purchase between the combined total of Uncanny X-Men #1 reg cvr, any order all non-qualifier Uncanny X-Men #1 variants, and any earned meet/exceed Uncanny X-Men #1 variants.)

Joe Quesada B&W Hidden Gem Variant (Retailers: May order 1 variant for every 1,000 copies you purchase between the combined total of Uncanny X-Men #1 reg cvr, any order all non-qualifier Uncanny X-Men #1 variants, and any earned meet/exceed Uncanny X-Men #1 variants.)

Scott Williams Variant (Retailers: Order what you want)

Skottie Young Variant (Retailers: Meet or exceed 250% of your total orders of Avengers #5 with your orders of Uncanny X-Men #1 and this variant is order all you want.)

Leinil Francis Yu Variant (Retailers: Meet or exceed 250% of your total orders of Avengers #5 with your orders of Uncanny X-Men #1 and you may order up to two copies of this variant. Must opt in to party.)