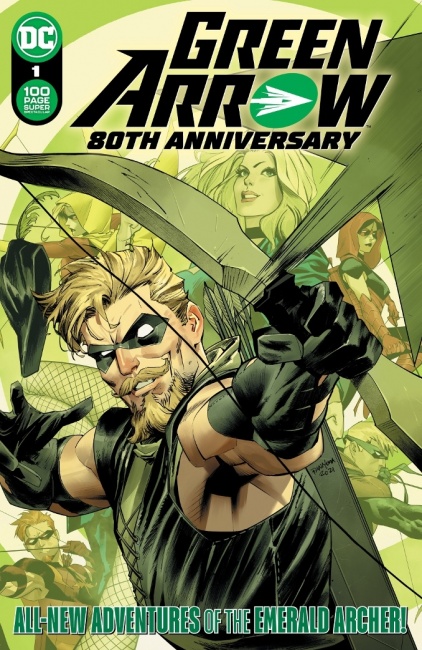 Green Arrow 80th Anniversary 100-Page Super Spectacular #1
Publisher: DC Comics
Release Date: June 29, 2021
Cover Price: $9.99
Writer(s): Various
Artist(s): Various
Cover(s): Dan Mora (Main), 8 'Decade' Variants (See Below)
Format: 100 pgs., Full-Color
Publisher Description
. On June 29, DC celebrates eight decades of emerald-clad swashbuckling, crime-fighting, and trick arrows of every kind when the
Green Arrow 80th Anniversary 100-Page Super Spectacular
#1! Green Arrow and his allies across his 80-year history, from the Golden Age to now, the anniversary special includes 12 stories from some of DC's most esteemed writers and artists who have contributed to the legacy of Oliver Queen. The title will also include eight "Decade" variant covers depicting the Emerald Archer through the ages.
This anthology not only features a "who's – who" of comic book storytellers but also includes a unique and heartfelt tribute to the career of iconic DC and Green Arrow scribe Denny O'Neil. "Tap, Tap, Tap" is a silent, wordless story from Denny O'Neil's son Larry, Jorge Fornes (
Rorschach
), and Dave Stewart (
Superman
).
Additional stories in this anthology include:
"The Disappearing Bandit" - Written by Mariko Tamaki, Art by Javier Rodriguez
"Punching Evil" - Written by Tom Taylor, Art by Nicola Scott
"Who Watches the Watchtower?" - Written by Stephanie Phillips, Art by Chris Mooneyham
"Out of the Shadows" - Written and Art by Mike Grell
"The Arrow and the Song" - Written by Ram V, Art by Christopher Mitten
"One" - Written by Brandon Thomas, Art by Jorge Corona
"Green Man and Autumn Son" - Written by Devin Grayson, Art by Max Fiumara
"Star City Star" - Written and Art by Phil Hester, Inks by Ande Parks
"Happy Anniversary" - Written by Vita Ayala, Art by Laura Braga
"The Sympathy of the Woods" - Written by Ben Percy, Art by Otto Schmidt
"The Last Green Arrow Story" - Written by Jeff Lemire, Art by Andrea Sorrentino
The 'Decade' variant covers come from some of the most prolific artists in comics:
1940's Variant: Michael Cho
1950's Variant: Daniel Warren Johnson
1960's Variant: Neal Adams
1970's Variant: Derrick Chew
1980's Variant: Gary Frank
1990's Variant: Howard Porter
2000's Variant: Jen Bartel
2010's Variant: Simone Di Meo
Green Arrow 80th Anniversary 100-Page Super Spectacular #1 arrives in participating comic book stores on Tuesday, June 29, 2020, for $9.99.

Click Gallery below for full-size images.