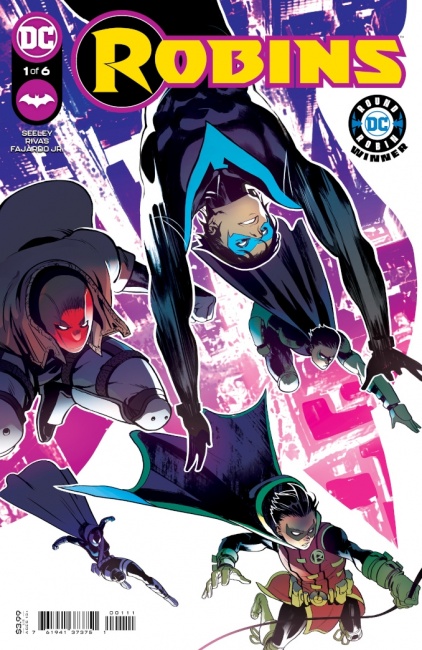 Publisher Description
.
Robins
, winner of DC's Round Robin Competition, peels back the domino mask on the realities and risks of being Robin. All five Robins are there: Dick Grayson, Jason Todd, Tim Drake, Stephanie Brown, and Damian Wayne, brought together to fight crime and finally sit down and talk about whether being a Robin was a good idea… but they can't even do that without being ambushed.
As an unknown assailant claims to have been the first Robin, the flock of Robins must figure out who she is, and what it means to be a Robin.
This new series from Tim Seeley and Baldemar Rivas includes some of the greatest athletes in the DC Universe—and to honor that, DC is launching each issue with a special work out variant cover. Run, don't walk to grab issue #1, on sale 11/16/21, with an amazing cover featuring the one and only Dick Grayson:
Issue #2 catches Jason Todd, AKA The Red Hood, on his way out of the gym as drawn by the inimitable Nick Robles. And Issue #3 reunited artist Marcus To with Tim Drake. Issue #4, drawn by Jen Bartel, catches up with Stephanie Brown at the gym, as she pursues those gains.
Click Gallery below for full-size images.