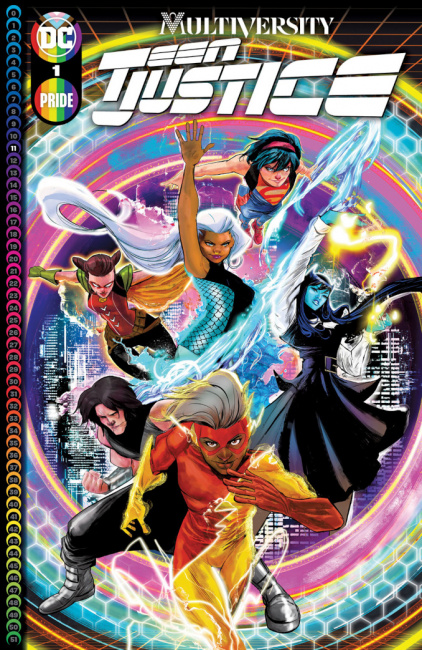 Publisher Description
. Following their debut in
DC
'
s Very Merry Multiverse
(December 2020) and a marquee appearance in
DC Pride 2022
(on June 7), Teen Justice crosses the DC Multiverse and stars in their own miniseries! The secrets of Earth-11's newest heroes and villains unfold in DC's new team title—
Multiversity: Teen Justice
by Ivan Cohen, Danny Lore, Marco Failla, Enrica Eren Angiolini and Carlos M. Mangual!
The debut issue, releasing on June 7, begins with an attack by the H.I.V.E. and ends in the Church of Blood. What is Sister Blood's true mission among the lost souls of New York City? Can Teen Justice get through their growing pains fast enough to learn the answer in time to stop it? And what role will the mysterious Raven—the brooding hero who has refused to join the team in the past—play in the ultimate battle?
Looking for a primer on the Earth-11 heroes of
Multiversity: Teen Justice
? DC has produced a series of trading card-style biographies of the main cast! Kid Quick—the Future State Flash—and their fellow heroes Supergirl, Robin, Aquagirl, Klarienne the Witch Girl, and Troy take center stage in a miniseries that rocks Earth-11 to its core!
Click Gallery below for full-size images.