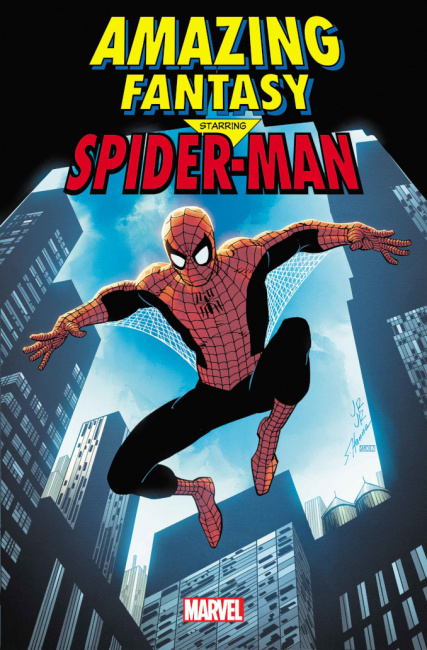 Amazing Fantasy #1000
Publisher: Marvel Comics
Release Date: 8/31/2022
Cover Price: $7.99
Writer(s): Neil Gaiman, Armando Iannucci, Dan Slott, Michael Cho, Anthony Falcone, Ho Che Anderson, Kurt Busiek, Rainbow Rowell, & Jonathan Hickman
Artist(s): Steve McNiven, Ryan Stegman, Jim Cheung, Michael Cho, Giuseppe Camuncoli, Terry Dodson, Rachel Dodson, Olivier Coipel, & Marco Checchetto
Cover(s): John Romita Jr. (Main), Joe Quesada (Variant)
Format: 72 pgs., Full-Color
Rating: Teen
Publisher Description
. Sixty years ago, Stan Lee and Steve Ditko introduced the world to Spider-Man in the historic
Amazing Fantasy
#15! Over the course of six web-slinging decades, Peter Parker has inspired millions of fans and secured his spot as one of the most iconic fictional characters of all time. To celebrate this milestone anniversary, a lineup of incredible creators from throughout the comics industry will come together next month in
Amazing Fantasy
#1000, an outstanding collection of stories that explore the past, present and future of Amazing Spider-Man storytelling and showcase why Spidey is one of the most beloved heroes in history.
Here's what fans can expect from this landmark issue:
Writer Neil Gaiman's and artist Steve McNiven tell a touching tale about how Spidey inspired a young fan.
Emmy Award-winning creator behind Veep and Avenue 5 Armando Iannucci makes his Marvel Comics debut alongside Ryan Stegman in a story about a strange Spidey conspiracy!
Spider-Man writer Dan Slott and artist Jim Cheung team up to explore the enduring love between Peter Parker and Mary Jane Watson in a story set in the far future.
Artist Michael Cho and novelist Anthony Falcone craft a powerful story that explores the very root of Peter Parker's heroism.
Ho Che Anderson and Giuseppe Camuncoli deliver thrills and chills in a horror-fueled Spidey adventure that cuts to Peter Parker's core.
Kurt Busiek, Terry Dodson, and Rachel Dodson introduce a new Spidey villainess - the Witch-Queen!
Rainbow Rowell and Olivier Coipel spotlight the average day of Peter Parker's hectic job as a Daily Bugle photographer.
Jonathan Hickman and Marco Checchetto take readers on an inter-dimensional journey across the Spider-Verse and beyond!
Check out brand-new interior artwork and don't miss this profound chapter in the Spider-Man mythos when Amazing Fantasy #1000 arrives on August 31!

Click Gallery below for full-size images.