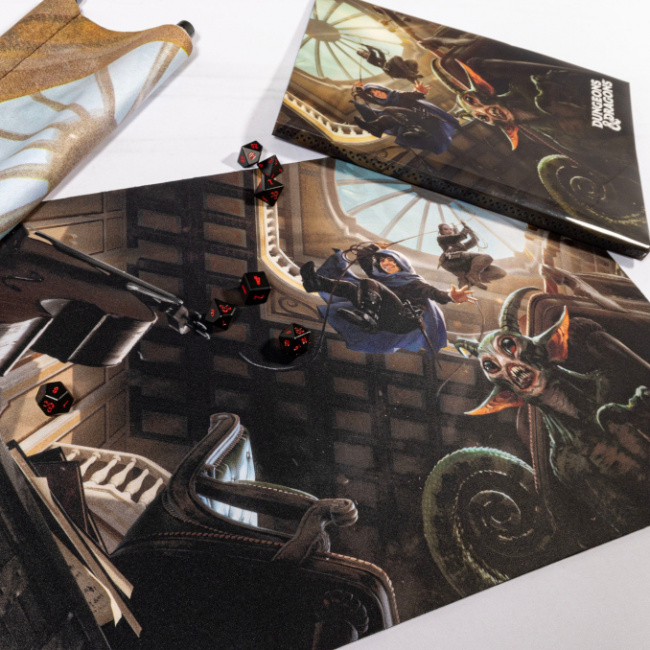 Plot your party's greatest heist yet with these officially licensed accessories from Ultra PRO featuring artwork from
Dungeons & Dragons: Key from the Golden Vault
: Folios, Wall Scrolls, and Playmats. Available February 23.
Keys from the Golden Vault Folio (MSRP: $10.99)
10 single-pocket pages for character sheets and notes.
Two 9-pocket pages for spell cards.
Inner pockets in front and back.
Sticker sheet for enhanced organization.
Keys from the Golden Vault Wall Scroll (MSRP: $24.99)
Black hanging cord and rods.
Easy to assemble collapsible rod.
Measures approximately 26.8" x 37.4".
Perfect for decorating home, office, or play space!
Keys from the Golden Vault Playmat (MSRP: $21.99)
Soft fabric top provides a safe dice rolling surface.
Non-slip rubber backing keeps the playmat from shifting during use.
Approximately 24" x 13.5", and lies flat.
Makes an excellent oversize mousepad for your home or office.
Click on Gallery below for full sized images.

This coverage is part of RPG Week, celebrating all things RPG at ICv2. For more ICv2 RPG Week articles, click here.