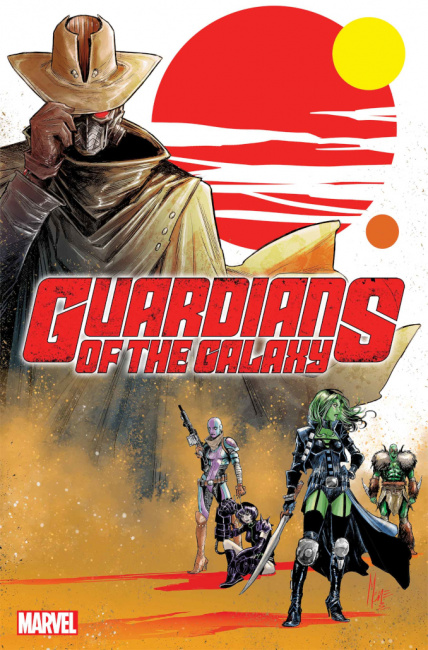 Guardians of the Galaxy #1
Publisher: Marvel Comics
Release Date: April 12, 2023
Cover Price: $4.99
Writer(s): Collin Kelly & Jackson Lanzing
Artist: Kev Walker
Cover(s): Marco Checchetto (Main) and Variants (See Below)
Format: 40 pgs., Full-Color
Rating: Teen+
Publisher Description
. Next month, the Guardians of the Galaxy enter uncharted depths of space in a new comic run by writers Collin Kelly and Jackson Lanzing, and drawn by artist Kev Walker.
Guardians of the Galaxy
#1 introduces an overwhelming new cosmic threat to the Marvel Universe, one that emerged from the very heart of the team: GROOTFALL. This mysterious phenomenon will push Marvel's beloved team of intergalactic super heroes to the Manifold Territories: an uncharted, lawless area of Marvel space filled with never-before-visited planets and undiscovered alien species. The Guardians have brought to their lowest depths and their found family is fractured like never before. Tying to outrun their tragedy, the Guardians rise as the Folds' only chance at salvation. Can they rediscover their heroism and humanity on the bleakest frontier? Can they forgive the failures of their past? Or will they fade into the dark, eternally unforgiven? In the new trailer, fans can see the lineup of the new run in action including Star-Lord, Gamora, Drax, Nebula, and Mantis. They can also glimpse the devastating effects of GROOTFALL and witness the true, galaxy-bending might of what the Guardians are up against...
Guardians of the Galaxy
#1 covers:
Main Cover by Marco Checchetto
Variant Cover by Derrick Chew
Virgin Variant Cover by Derrick Chew (1:50)
Infinity Saga Phase 3 Variant Cover by Aaron Kuder
Variant Cover by Kael Ngu (1:25)
Variant Cover by Skottie Young
Timeless Virgin Variant Cover by Alex Ross
Timeless Virgin Sketch Variant Cover by Alex Ross (1:100)
Grootfall Variant Cover by Kev Walker
Movie Variant Cover
Click Gallery below for full-size images.