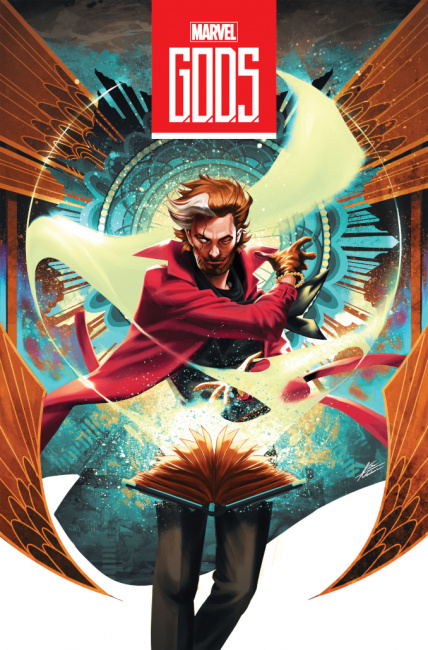 G.O.D.S. #1
Publisher: Marvel Comics
Release Date: October 4, 2023
Cover Price: $9.99
Writer: Jonathan Hickman
Artist: Valerio Schiti
Cover(s): Mateus Manhanini (Main) and Variants (see below)
Format: 56 pgs., Full-Color
Rating: Teen+
Publisher Description
. On October 4, everything you think you know about Marvel's cosmology will be shattered by two of the industry's greatest modern visionaries in
G.O.D.S.
, an epic new series from the minds of writer Jonathan Hickman and artist Valerio Schiti! Yesterday, retailers attended a special video conference and learned firsthand just how ambitious this highly-anticipated saga will be. Today, fans can see all five covers for the debut issue and experience a thrilling new lettered preview!
The five
G.O.D.S.
#1 covers include stunning spotlights on new character Aiko by Peach Momoko and Ejikure, a dramatic group shot by Mahmud Asrar, and a humorous take on new character Wyn by Skottie Young. Wyn and Aiko are devoted members of THE-POWERS-THAT-BE and THE-NATURAL-ORDER-OF-THINGS, opposing factions that serve the omnipotent forces of the Marvel Universe including Eternity, Infinity, and the Living Tribunal. For eons, these groups have operated in the shadows—what has finally brought their existence to light? Fans can see exactly what in an all-new preview. Behold a Babylon Event, a rare occurrence that has the potential to upend the cosmic pantheon. With all of reality hanging in the balance, see a gathering of magic and science users unleash everything they have against eldritch horrors while Wyn attempts a more unconventional solution…
Cover by Mateus Manhanini
Virgin Variant Cover by Mateus Manhanini (1:100)
Aiko Variant Cover by Ejikure
Aiko Virgin Variant Cover by Ejikure (1:50)
Variant Cover by Mahmud Asrar (1:25)
Variant Cover by Peach Momoko
Variant Cover by Skottie Young
Click Gallery below for full-size images.