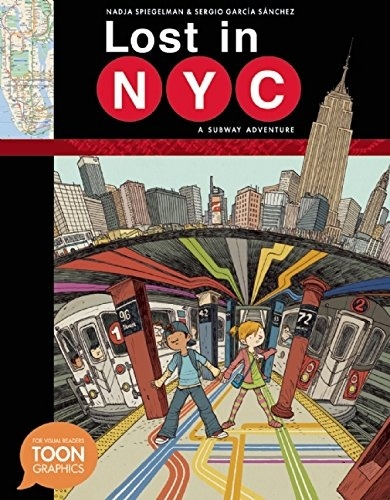 Lost in NYC: A Subway Adventure HC
Publisher: TOON Books
Release Date: April 7, 2015
Price: $16.95
Creator: Nadja Spiegelman & Sergio Garcia Sanchez
Format: 52 pgs., 7.8"x10", Full-Color, Hardcover
ISBN: 978-1-9351-7981-8
Age Ratings: 8-12
ICv2 Ratings: 4 Stars out of 5
This is a very good story, but may be too New York-centric for some children. Part of the plot hinges on getting lost on the New York subway system and quickly figuring out how to correct your course of travel there and on the streets above. Children who have never ridden a subway may not understand that sequence. Explanatory subway notes in the back may help.
Overall, the tale is one of finding yourself and finding friendship, as a boy whose family moves frequently has become discouraged and disconnected from friendship. His adventure, while separated from his class field trip, leads to a happy understanding of what it might mean to have friends.
Because the artist's wife [who also did the coloring] translated the book into Spanish, there is a Spanish-language edition also available from Toon. 'That dual-language availability will make the book attractive to libraries in many areas. In addition, the notes in the back explain much of the New York setting. There is also a set of notes for the reader about graphic storytelling itself. Parents or teachers will find those notes to be useful, as well.
Because this is one of the more "advanced" Toon books, it is aimed at grades 3 and above. The artwork is very good for that age range, cartoony but detailed enough to make the settings attractive.
--
Nick Smith: Library Technician, Community Services, for the Pasadena Public Library in California.