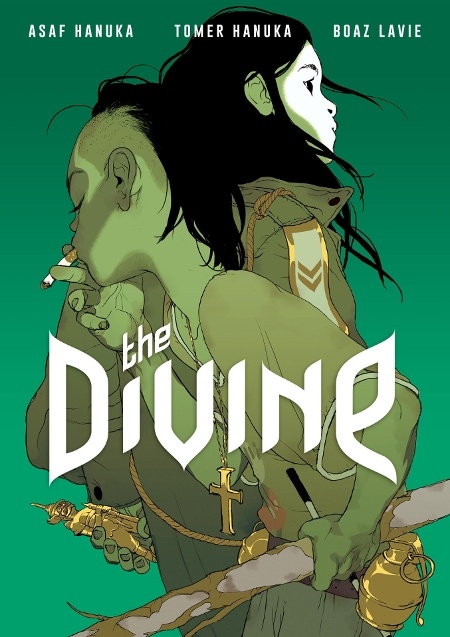 The Divine TP
Publisher: First Second Books
Release Date: July 2015
Price: $19.99
Creator(s): Asaf Hanuka, Tomer Hanuka, and Boaz Lavie
Format: 150 pgs., Full-Color, Trade Paperback
ISBN: 978-1-59643-674-9
Age Ratings: Mature
ICv2 Ratings: 5 Stars out of 5
Illustrators Asaf and Tomer Hanuka, best known for their commercial work for
The New York Times
,
The New Yorker
,
Rolling Stone
,
Time
,
Forbes
,
Newsweek
, and many others, as well as their comics work on
Bipolar
,
Meathaus
, and
The Realist
, team with writer Boaz Lavie for
The Divine
.
Inspired by real world events facing the military and civil unrest in Burma,
The Divine
is the story of three major characters: Mark, an ex-military explosives expert who accepts a contract offer for a CIA-led mission into the Southeast Asian nation of Quanlom; and two twin brothers Luke and Thomas, who are leading an indigenous resistance movement against a military junta.
Soon to be a father and stuck in a cycle of menial job placement that is eroding his marriage, Mark reluctantly rejoins his operative friend Jason on a mission to blow up a mountain in Quanlom. Although Mark and Jason are successful in their infiltration and secure the explosive device, the arrival of a child wounded by land mines alters the course of Mark's story and sends him on a path that will bring him into direct conflict with his government, with Jason and his mission, and introduce him to the world of Quanlom refugees Luke and Thomas inhabit. Here he is swept up in a realm of mystery, magic, and the supernatural - particularly giant, ancient warriors and mythical dragons.
The Hanuka brothers have a distinctive style all their own. Vibrant and simultaneously muted colors at times call to mind the flats familiar to readers of Eurocomics in their emotive quality to defy realistic expression. This offers a distinctive clarity and power to the illustrations. The closest equivalent in modern comics would be Fiona Staples' work on
Saga
.
First Second's commitment to producing quality graphic novels is widely recognized and acknowledged, and
The Divine
is the latest installment in a catalog of award winning books.

--Nathan Wilson