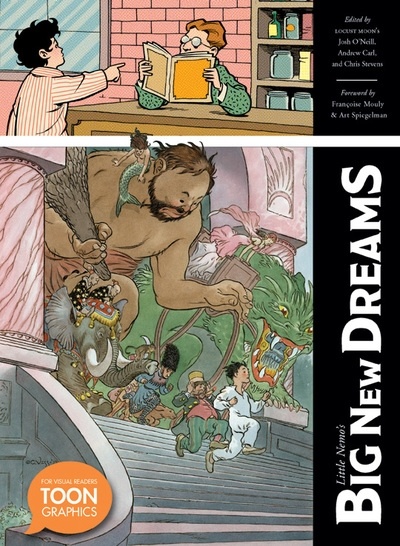 Little Nemo's Big New Dreams HC
Publisher: Toon Graphics
Release Date: September 1, 2015
Price: $16.95
Creator(s): Various
Format: 72 pgs., Full-Color, Hardcover
ISBN: 978-1-9351-7987-0
Age Rating: 12 and up
ICv2 Rating: 5 Stars out of 5
Unlike anything else from Toon Books, this is NOT a book for younger children. Instead, it's a gorgeous labor of love, with tributes from a number of modern cartoonists, celebrating the
Little Nemo
stories of Winsor McCay. Abridged from a much larger and more expensive work, this is an approachable and affordable volume that might intrigue readers to look at the works of McCay himself, an artist many years ahead of his time in creating visual imagery in the world of sequential art.
With contributions by Craig Thompson of
Blankets
, David Petersen of
Mouse Guard
, Box Brown of Andre the Giant, and even Gerhard, Dave Sim's co-illustrator on Cerebus, and the legendary Charles Vess, among many others, this collection represents a wide variety of approaches, and almost all are successful at celebrating McCay's imagination. In a world where everything interesting happens after you're already asleep in bed, the stories of Little Nemo always had their own internal logic, albeit what we now call "dream logic," and they often told the story of a dream more interesting than your own.
The book also includes introductory material by Art Spiegelman and Francoise Mouly, as well as a few examples of McCay's won work.
This book belongs on the shelf of anyone interested in the history of the comic strip, and anyone who is interested in figuring out some of the stuff Scott McCloud talked about in his books on sequential art. McCay as seen through the eyes of other artists is a visual treat.
For all ages, but younger children may not fully understand some of the stories.
--
Nick Smith: Library Technician, Community Services, for the Pasadena Public Library in California.