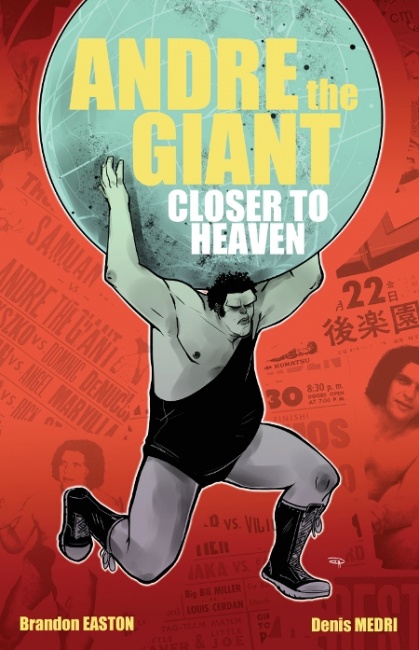 Andre the Giant: Closer to Heaven TP
Publisher: IDW Publishing (Lions Forge)
Release Date: December 10, 2015
Price: $12.99
Creator(s): Brandon Easton (writer) and Denis Medri (artist)
Format: 104 pgs., Color, Trade Paperback
ISBN: 978-1-6314-0400-9
Age Rating: 13+
ICv2 Rating: 5 stars out of 5
If you were born in the latter half of the last century you more than likely know the name Andre the Giant. A larger than life figure within pop culture, Andre was a giant who became famous for his persona inside the wrestling ring and eventually movies and TV shows. What do you know about the man outside of the wrestling ring though? In this new book, readers will be treated to an in-depth look at the man, the myth, the legend.
Despite lasting only 100 or so pages, the author of this book manages to squeeze in over 40 years of Andre's life and treats the reader to facts and biographical info that would challenge any full length book and does so with respect and class.
Treating the subject with the utmost care, this book does an amazing job of chronicling the life of Andre from his early days in France all the way up to his final days in the US leading up to his untimely death.
While wrestling fans are going to get the most enjoyment out of this book, pop culture junkies who were alive for the famous 'Rock and Wrestling' era will get equal enjoyment out of learning more about one of the biggest stars of the time.
I personally learned a lot from this book and will consider it a treasured part of my personal library going forward. This is the book that the gentle giant deserves and will serve his legacy well. Very recommended!
--
L.B. Bryant