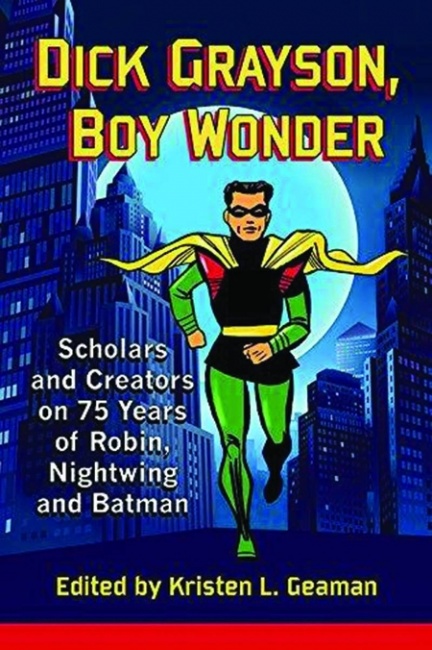 Dick Grayson, Boy Wonder: Scholars and Creators on 75 Years of Robin, Nightwing and Batman TP
Publisher: McFarland
Release Date: July 9, 2015
Price: $39.95
Creator(s): Various; Edited by Kristen L. Geaman
Format: 360 pgs., Black & White, Trade Paperback
ISBN: 9-780-7864-9788-1
Age Rating: N/A
ICv2 Rating: 4 Stars out of 5
This book is an intriguing collection of essays, most of them scholarly in nature, on the nature and fictional history of Dick Grayson, on roughly the 75th anniversary of the concept of Robin.
While the book has some outstanding work in it, it often suffers from the basic conceit that you can psychoanalyze a fictional character that was written by an ever-changing cast of writers, under ever-changing corporate directives. The assumptions involved in that boggle the mind. In addition, the editor clearly plays favorites with the various theories and interpretations, as well as with creators. Examples range from the interview section [Marv Wolfman gets three pages, Dennis O'Neill gets seven pages, and Devin Grayson gets thirty pages] to the fact that the concluding article is not a scholarly article at all, but the visceral response of a fan whose life was impacted by being able to compare real life to the fictional world of Dick Grayson.
Still, for anyone who wants insights into the detailed history of Dick Grayson, as Robin and as Nightwing, and into the creative processes that have guided the character over such a long time, this is a valuable work, well worth reading. It should also be of interest to anyone interested in writing any company-owned character, because the history and interviews may prevent career-threatening pitfalls. Its price may keep it out of the hands of some fans, but it belongs in most libraries, at the least.
For adults and older teens, because of the tone and style of the book.
--
Nick Smith: Librarian Technician, Community Services, for the Pasadena Public Library in California.