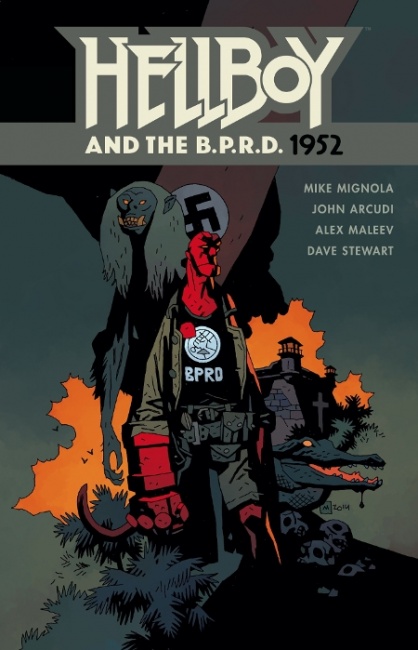 Hellboy and the B.P.R.D.: 1952 TP
Publisher: Dark Horse Comics
Release Date: August 25, 2015
Price: $19.99
Creator(s): Mike Mignola, John Arcudi (writers), Alex Maleev (artist)
Format: 144 pgs., Full-Color, Trade Paperback
ISBN: 978-1-6165-5660-0
Age Rating: N/A
ICv2 Rating: 3 Stars out of 5
On Hellboy's very first field mission the Bureau of Paranormal Research and Defense sends him and a group of BPRD agents to investigate a series of mysterious murders taking place in a small Brazilian village. They quickly find what is responsible but one horrible thing invariably leads to another and soon Hellboy is way over his head. He may be a rookie but he deals with the situation the way he usually does; by charging in in headfirst without thinking.
In
Hellboy and the B.P.R.D.: 1952
creator Mike Mignola and artist Alex Maleev have crafted a solid supernatural thriller, one that has all of the elements of some of Mignola's best Hellboy stories. And unfortunately that's part of the problem; it's pretty much like every other previous story in the series and I was really looking forward to seeing a younger Hellboy in action and watch him try to navigate through a larger world for the first time.
But like I said this Hellboy handles things pretty much the same way his old self does. And we only get to see him at B.P.R.D. headquarters and at the village when it would have been fun to see him visit a supermarket or see a 3D movie. Because while the title may say this takes place in the 50's from the lack of period detail we pretty much have to take the creators word on that. While well done I have to look at
Hellboy and the B.P.R.D: 1952.
as a missed opportunity.
--
Steve Bennett: Writer and retail services consultant.