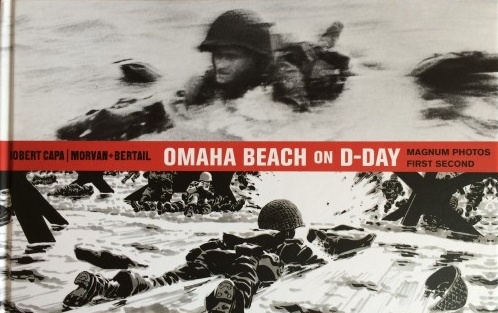 Omaha Beach on D-Day HC
Publisher: :01 First Second
Release Date: October 21, 2015
Price: $24.99
Creator(s): Jean-David Morvan and Severine Trefouel (writers); Dominique Bertail (artist); Robert Capa (photographer)
Format: 100 pgs., 2-color illustrations, b&w photographs, Hardcover
ISBN: 978-1-6267-2283-5
Age Rating: N/A
ICv2 Rating: 5 Stars out of 5
Photographer Robert Capa was one of the few journalists assigned to cover the landings on D-Day, and his location on Omaha Beach allowed him to capture some of the most dramatic scenes of the war. Even though only part of the film he shot survived, due to a disastrous mistake during the film's processing by his bosses back in London, what survived was incredible and dramatic.
His story, told in graphic form, is brief but memorable. The entire book is only 100 pages, of which almost half is made up of his photographs. His actual story is told in about fifty pages of riveting sequential art.
This book will appeal to fans of serious graphic non-fiction, but also to World War II buffs and students of photography. This book quite casually passes along some advanced photo techniques for photojournalism, especially Capa's techniques used in these photos.
While the death portrayed in the story and the photos is serious and depressing, Capa's work documents the realities of war, ranging from dead bodies to the faces of both ally and enemy, along with the tedium of waiting for the next horrible thing to happen.
Capa never received a deserved Pulitzer for his photo work on June 6, 1944. He was beaten out in that category by a more schmaltzy photo image of an officer coming home from the war. Perhaps the jury was burned out on grim realism that year.
The book is aimed at adults, but would also be suited to older teens interested in either World War II or photojournalism, and belongs on library bookshelves.
--
Nick Smith: Library Technician, Community Services, for the Pasadena Public Library in California.