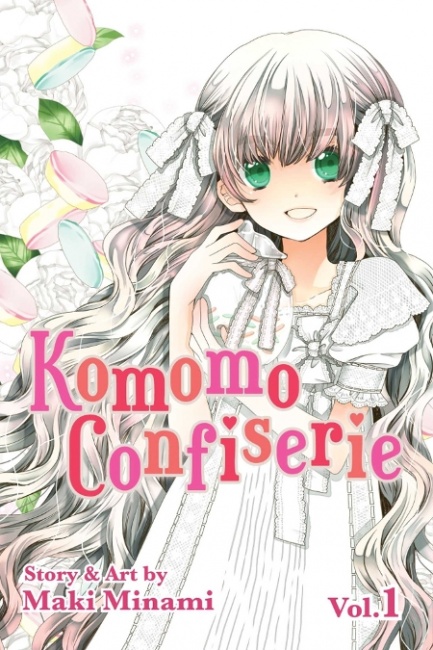 Komomo Confiserie Vol. 1 TP
Publisher: VIZ Media
Release Date: September 1, 2015
Price: $9.99
Creator: Maki Minami
Format: 200 pgs., Black & White, Trade Paperback
ISBN: 978-1-4215-8139-2
Age Rating: 13+
ICv2 Rating: 2.5 Stars out of 5
In this story from Maki Minami, the heroine is a middle school girl named Komomo Ninomiya. As a child, Ninomiya was a very rich and spoiled girl who got waited on hand and foot. Her biggest joys in life however were eating the sweets created to her by the son of her family's pastry chef and tormenting him however she saw fit until he moved to France with his family. Ten years later she now finds herself penniless and homeless without a single idea of how to take care of herself. This is when she meets a now grown up Natsu Azumi who has become a master pastry chef and has returned to Japan in order to help out in his father's shop. Seeing how bad off she is, Azumi agrees to shelter Ninomiya and give her a job in his shop but only if she is willing to work her butt off and take his abuse.
In this first volume, readers are going to have to deal with a lot of different issues starting with the fact that none of the characters are particularly likable. The arrogance that oozes out of all of these characters from Ninomiya to Azumi is almost intolerable to be perfectly honest particularly it's never really established what everyone's motivation is.
Sure, Ninomiya's base motivation is to survive her new life and return to the mansion that she grew up in but beyond that, what is Azumi's motivation for how he treats his new employee? On the surface it would seem to be payback for all the torment that she put him through when he was a child but if one were to dig just a little bit deeper it becomes obvious that there is more to this relationship than meets the eye.
Luckily it's not all bad. Much like another food manga that I had the pleasure of reading earlier this year,
Food Wars
, one of the big draws to this series is the reaction artwork. When Ninomiya eats the desserts that are created by Azumi she becomes absolutely euphoric to the point of shedding tears. These moments were drawn with loving care and create some very touching moments throughout the first volume.
This is a series that ran for less than two years in Japan before it ended and this first volume is kind of telling on why that is. If you're looking for a sweet romance that will wrap you up in its warmth, you won't find it here. Instead you're going to find unlikable characters who appear to only have the slightest amount of depth to them.
This one is barely recommended.
--
L.B. Bryant