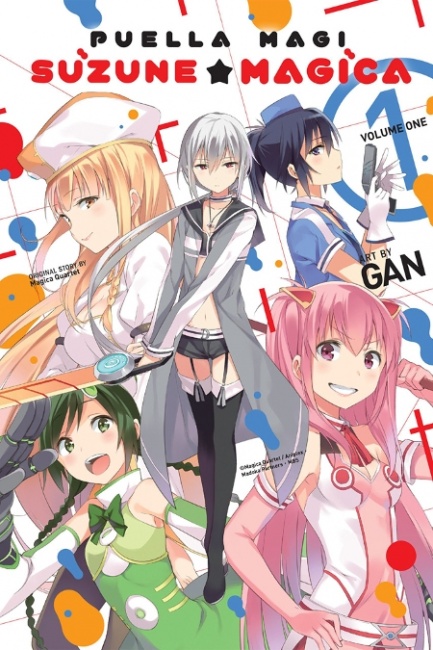 Puella Magi Suzune Magica Vol. 1 TP
Publisher: Yen Press
Release Date: September 22, 2015
Price: $13.00
Creator(s): Magica Quartet (Writer), Gan (Artist)
Format: 144 pgs., Black & White, Trade Paperback
ISBN: 978-0-3163-4885-0
Age Rating: 16+
ICv2 Rating: 3.5 Stars out of 5
By day Suzune Amano is a normal middle school student who just transferred into her school a month earlier. She's quiet and a bit standoffish but otherwise is perfectly normal. What the others in her school don't realize however is that by evening Suzune is an assassin who targets magical girls. When she comes into contact with a group of magical girls who also happen to be students at her school, the conflicts arise as they try to figure out why this girl is attempting to kill them all.
One thing that the
Madoka Magica
franchise has absolutely thrived at is telling dark stories and this particular spinoff is absolutely no exception. Within the first few pages we are introduced to Suzune as she meets and kills a magical girl for seemingly no reason at all.
From there the intrigue grows as Suzune meets other magical girls and dispatches them in similar fashions. What are her reasons? What is the big secret that she is trying so hard to keep hidden? No answers will be given within this first volume but the audience will have a lot of fun trying to figure it out along the way.
While I haven't been a huge fan of every single
Madoka Magica
spinoff story that has been released thus far, this particular one has resonated with me deeply and left me thinking about it hours and days after I initially put it down. The questions that this volume brings up and leaves with the audience will haunt your mind making this a perfect series for those older readers who want an action murder mystery to read over.
While the artwork isn't particularly memorable or spectacular, the story and writing more than makes up for that. This is a solid introduction to a new story and is very recommended.
--
L.B. Bryant