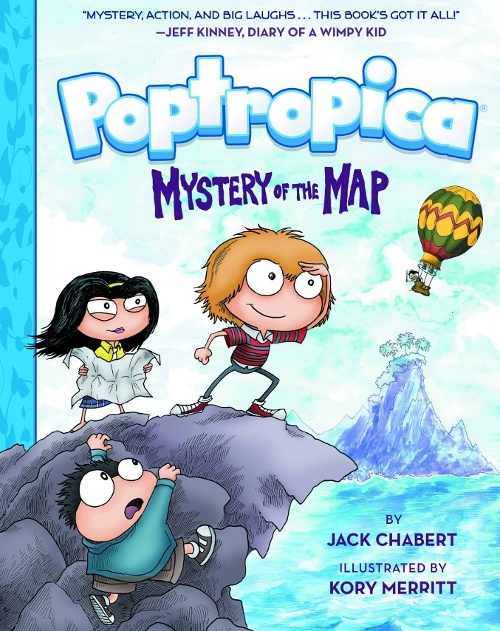 Poptropica: Mystery of the Map TP
Publisher: Amulet Books
Release Date: March 2016
Price: $9.95
Creator(s): Jack Chabert (author), Kory Merritt (illustrator)
Format: 122 pgs., Full-Color, 6.2" x 9.8", Trade Paperback
ISBN: 978-1-4197-2067-3
Age Rating: All-Ages
ICv2 Rating: 3 Stars out of 5
Poptropica
has become a multi-media empire of children's games and related materials, and they have finally branched out into graphic novels. It's a fun, goofy story in which very little makes sense. On some levels it comes across as a commercial for the games on their website, which have a great deal in common with the story. Fans of those games will find the book very enjoyable, but others may be less thrilled.
The adventure involves stolen balloons, treasure maps, a lost colony of Vikings, and a world of goofy islands [which is also reminiscent of the
Poptropica
games and website]. The artwork is of the "TV cartoons with no budget" style. For instance, the character faces are drawn without noses. This is interesting, because one of the Vikings has a nose guard on his helmet, apparently empty.
That said, for kids who want an adventure romp that reads like a TV cartoon, this will be appealing. If they are already reading more detailed fantasy, then this may not satisfy.
Jeff Kinney, of
Diary of a Wimpy Kid
fame, apparently came up with the basic idea for some part of the story, and he and other cartoonists have material on
Poptropica
.
All-ages, but best suited to grades 2-4.
--
Nick Smith: Library Technician, Community Services, for the Pasadena Public Library in California.