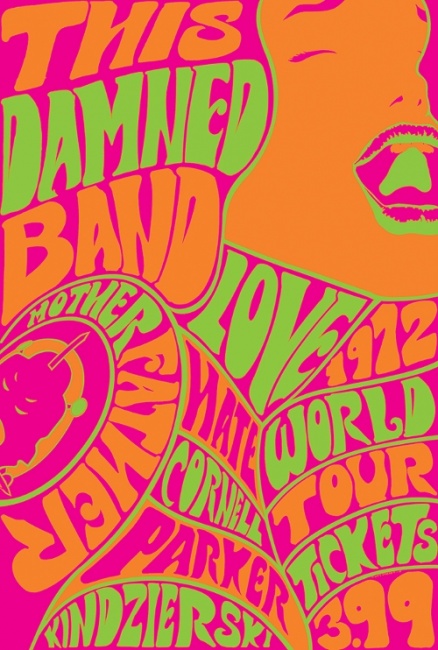 This Damned Band TP
Publisher: Dark Horse Comics
Release Date: May 17, 2016
Price: $17.99
Creator(s): Paul Cornell (writer), Tony Parker (artist)
Format: 160 pgs., Full-Color, Trade Paperback
ISBN: 978-1-61655-779-9
Age Rating: 16+
ICv2 Rating: 4 Stars out of 5
It's 1974 and Alex, Kev, Justin and Clive, the members of the band Motherfather, are being followed by a documentary crew as they begin their world tour. In the beginning it's the usual whirl of sex, drugs, rock 'n roll and the band's avowed Satanism appears to be just something to help get them some press. But as their groupies began to disappear one by one it seems more and more likely that there's an actual demonic power working against them from behind the scenes.
In This Damned Band Paul Cornell and artist Tony Parker have crafted something wholly original; the first horror/comedy comic told in a documentary-style that's equally effective as both comedy and horror story. They do a remarkable job of recreating the look and feel of what's becoming an increasingly distant era and while the set-up is certainly reminiscent of the film This Is Spinal Tap none of the characters are ever exclusively treated as complete caricatures or stereotypes.

I had assumed that I had seen every possible variation of the supernatural genre, especially when it came to the subjects of Satan and damnation. But This Damned Band manages to find new twists on well-worn themes and constantly rewards the reader with wholly unexpected plot and character developments. It should appeal to anyone who enjoys a story well-told.

--Steve Bennett: Writer and retail services consultant.