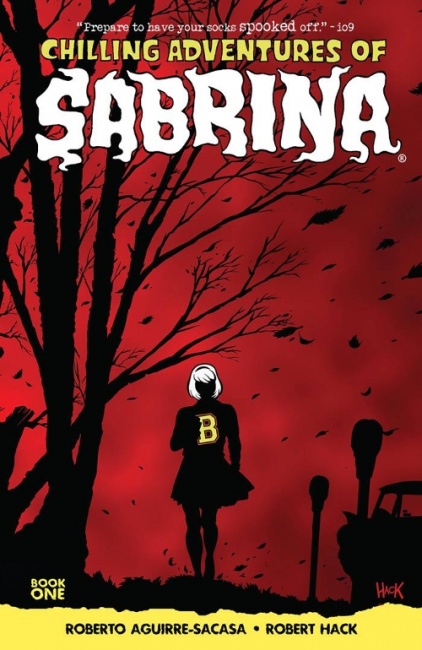 Chilling Adventures of Sabrina Vol. 1 TP
Publisher: Archie Comics
Release Date: August 16, 2016
Price: $17.99
Creator(s): Roberto Aguirre-Sacasa (writer), Robert Hack (artist)
Format: 160 pgs., Full-Color, Trade Paperback
ISBN: 978-1-6273-8987-7
Age Rating: Teen+
ICv2 Rating: 3 Stars out of 5
In an attempt to leave her unfortunate family history behind, a teenage girl and her aunts move to a new town. No one suspects they're secretly witches, and along with adjusting to a new school soon she has to choose between her forbidden love for a mortal boy and becoming initiated into her coven. This is when her past literally comes back to haunt her in the form of an enemy seeking revenge against her family.
All the familiar Archie characters, Sabrina, her aunts Hilda and Zelda, and talking cat Salem are here, though with some substantial changes. Rather than the mostly benign mischief makers you recall, here they're treated like real witches, who along with worshipping Satan aren't above a bit of cannibalism. And it's a historical, set in the early 60s at roughly the same time they first made their appearances in comics.
It's extremely dark, darker even than
Afterlife with Archie,
and initially I had trouble connecting with both the characters and story. But eventually I was won over by the honest way it deals with the racism and sexism of the times, as well as some of the period details. Like, when Sabrina tries out for her high school's production of the musical
Bye, Bye Birdie
she wins the part by consulting the actress who played her part in the movie version, Ann Margret (who turns out to be a witch). It's reminiscent of both the best of Stephen King and Alan Moore and Stephen Bissette's
Swamp Thing
and while strangely satisfying, it's definitely not for kids.
--
Steve Bennett: Writer and retail services consultant.