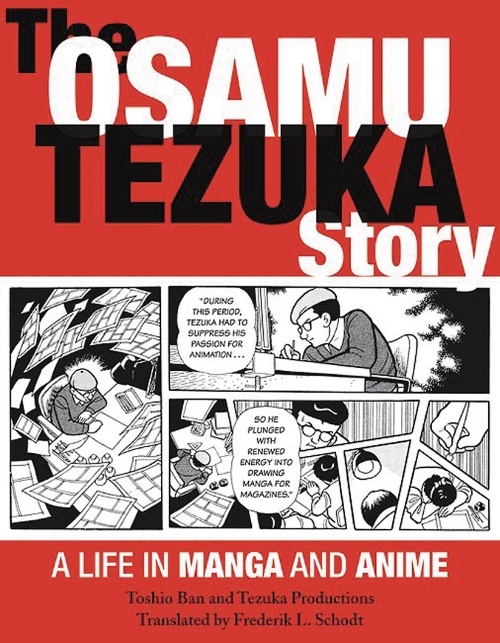 The Osamu Tezuka Story: A Life in Manga and Anime TP
Publisher: Stone Bridge Press
Release Date: July 13, 2016
Price: $29.95
Creator(s): Toshio Ban and Tezuka Productions, translated by Frederik L. Schodt
Format: 928 pgs., Black & White, 7"x9", Trade Paperback
ISBN: 978-1-6117-2025-9
Age Rating: N/A
ICv2 Rating: 5 Stars out of 5
Osamu Tezuka was the Walt Disney, Winsor McCay and Jack Kirby of Japan, all in one. While not the first creator in any one aspect of Japanese cartooning, comics or animation, he's the name which united them all in the minds of the audience. Before his death, a publisher created a unified edition of his printed works, and that set came to 300 volumes. Because he kept working up until his untimely death, there was more material by then which filled another 100 volumes.
This volume is a riveting biography of Osamu Tezuka, told in the form of an oversized manga, narrated by a manga character. It also contains vast amounts of information about the history of anime and manga, and their places in Japanese culture and history. Patterned after his own style of manga art, the illustrations are so detailed that you could walk into some of the real settings and recognize them. There are even art lessons and technical details about animation scattered through the story.
Toshio Ban, who worked at Tezuka Productions for many years, created this work in Japan, and this is the first U.S. edition, translated by manga expert Schodt.
Osamu Tezuka was obsessed with creating, and the story makes it clear that he was not a perfect human being, but the story itself is one that every American fan of manga or anime should read. The length of the book is intimidating, but it's not often that one can say that a book is a 900-page page-turner, and this one is.
The book is aimed at teens and adults. If you can get a manga or anime fan to pick this up and overlook the intimidating size, they won't want to put it down.
--
Nick Smith: Library Technician, Community Services, for the Pasadena Public Library in California.