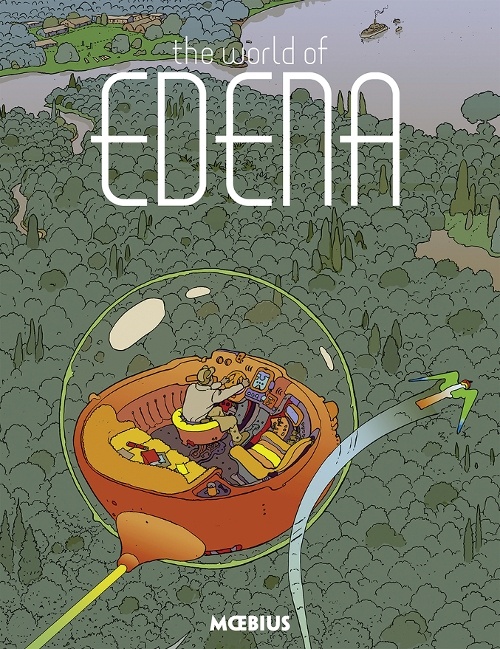 Moebius Library: The World of Edena HC
Publisher: Dark Horse Comics/Moebius Production
Release Date: October 26, 2016
Price: $49.99
Writer/Artist/Cover: Moebius (Jean Giraud)
Format: 360 pgs., Full-Color, 8.7"x11.2", Hardcover
ISBN: 978-1-5067-0216-2
Age Rating: Mature
ICv2 Rating: 5 Stars out of 5
Le Monde d'Edena
is a six-volume series of French tomes or albums Moebius produced from 1983 through 2001. Originally published in French by Les Humanoides Associes and later by Casterman, English-language editions of these instant classics did not appear until Moebius's Starwatcher Graphics partnered with Marvel Comics' Epic line and debuted
Moebius 1: Upon a Star
in 1987. Collecting not only Moebius's Edena Cycle but also classics from his
Metal Hurlant
or
Heavy Metal
days, this nine volume library ended in 1994 with
Stel
and never completed a fully English translation of Moebius's final Edena installment,
Sra
, released in 2001.
Now out of print and highly collectible, the Epic editions are prized and sought after gems not only for the comics, but also the informative pieces by Moebius himself as well as the essays by editors Jean-Marc and Randy Lofficier.
While publishers such as Dark Horse, Graphitti Designs, and Humanoids would all acquire licenses from 1990 - 2014 for English editions of many of Moebius's comics, none could bring the concluding chapter of
Le Monde d'Edena
to print in English audiences until now. Moebius Production's and Dark Horse's
The World of Edena
is the first English-language edition to collect
Sra
and many of the Edena Cycle stories in a single volume, although it includes none of the alternate Edena pieces from
Moebius Comics,
published by Caliber Comics between 1996 and 1997. There are also some Stel and Atan stories collected in Europe
as
Les Reparateurs
that are not in this Dark Horse edition.

The World of Edena includes entirely new translations as well as new lettering and colors. The colors are noticeably different from the Epic editions, beyond digital enhancements or printing techniques. It's unclear if this was done for the Casterman editions, or new for the Dark Horse volume. Only Moebius Production is credited for all original line art and colors in this new edition, while the Epic editions credited specific individuals. For example, in Epic's Moebius 5: The Gardens of Edena, Geoffrey C. Everts, Peter Ramsey, and Claudine Giraud are credited as colorists.

Adam Pruett does a brilliant job on re-lettering this collection in a style and form that mirrors the Epic editions.

Although many American publishers have petitioned Moebius Production for English licensing rights, it is a testament to Dark Horse's relationship with the Giraud family and the stellar, commendable work of editor Philip Simon that this new The World of Edena collection now exists. It serves both audiences reared on Moebius in the 1970s, 80s, and 90s, as well as an entire new generation of comics fans who have only had glimpses of Moebius's genius found in the quotes of their favorite creators, tributes to the artist's life following his death in 2012, and thousands of dedications, blogs, and sites devoted to Giraud's memory.