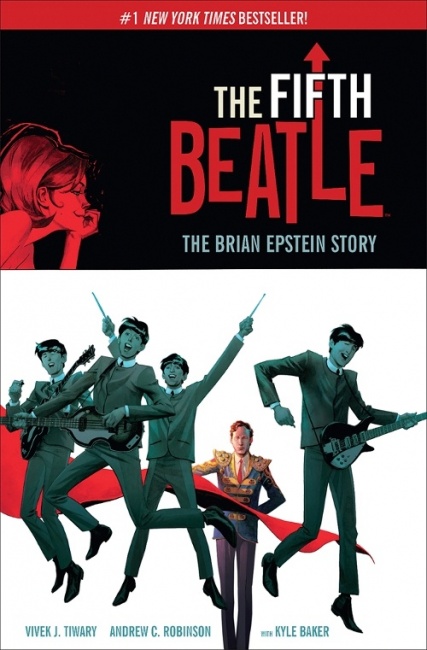 The Fifth Beatle: The Brian Epstein Story TP (Expanded Edition)
Publisher: Dark Horse Comics
Release Date: October 19, 2016
Price: $14.99
Creator(s): Vivik Tiwary (writer); Andrew Robinson w/ Kyle Baker (artists)
Format: 176 pgs., Full-Color, 8"x12", Trade Paperback
ISBN: 978-1-665-5835-2
Age Rating: 16+
ICv2 Rating: 4.5 Stars out of 5
This is an expanded new edition of the 2013 graphic biography of Brian Epstein, the man who turned The Beatles from a local bar band into an international phenomenon. The book's size and price point make it an excellent bargain, and a great holiday present for Beatles fans.
Tiwary's version of the Epstein story is moving and interesting, as you see him creating a phenomenon at tremendous personal cost. He's not flawless, and you can also see his driven perfectionism creating obstacles. From a record-store executive to manager of the most popular act in the world is a big step, and not a safe or easy one.
Robinson's artwork is consistently excellent, ranging from realistic to slightly weird, but the Kyle Baker segments were a bit intrusive and distracting. The serious aspects of the story dealing with Epstein's sexual identity, as well as his abuse of prescription drugs, help put the whole thing into a context that is skillfully dark, and Tiwary and Robinson did great work on those parts. Even if you don't know Epstein's life story, the hints of tragedy looming in the distance are too strong to miss.
The funny parts of music life, including the banter between "the boys" in the early days, help the reader to get inside the heads of the characters as well as understand the things which came out of their mouths in the movies. This lightens the dark episodes far better than the Kyle Baker/Philippines segment does.
Overall, this is for adults, although a few older teens might appreciate the story as well.
--
Nick Smith: Library Technician, Community Services, for the Pasadena Public Library in California.