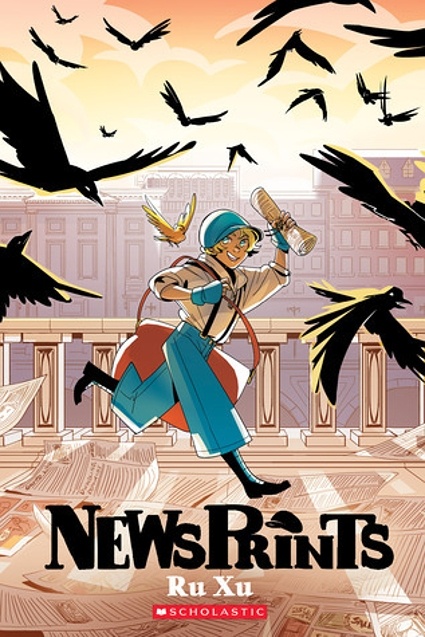 NewsPrints TP
Publisher: GRAPHIX (Scholastic)
Release Date: January 31, 2017
Price: $12.99
Creator: Ru Xu
Format: 208 pgs., Full-Color, 6"x9", Trade Paperback
ISBN: 978-0-5458-0312-0
Age Rating: 8-12 yrs.
ICv2 Rating: 4.5 Stars out of 5
This review is based on an early galley, with most of the art still pre-coloring.
NewsPrints
is a delightful steampunk adventure story, aimed at a younger audience than most steampunk-style stories. Blue is a girl who is pretending to be a boy, in order to keep her job and her standing in her "family" of sorts. Crow is the strange boy she finds, who also isn't at all what he seems. The city-state where they live is at war, for reasons that probably aren't what they seem, either. Certainly, the scientist who befriends Blue has layers of secrets, as does almost everyone else in the story.
Ru Xu's artwork is really nice, clean and clear. There are influences from manga-style art in the faces, but it is less exaggerated and stylized than most manga. The scenery is intriguing, and the people easy to tell apart, something not universally true in comics.
The story deals with serious issues on several levels, with lines such as "War's scary. I bet my dad would have changed too. If he'd come back at all." There are also happy, funny and silly moments, some having to deal with Blue's chosen profession as a seller of newspapers on the streets.
While very young children won't appreciate the rich story, older kids and tweens will devour it and want more. Ru Xu shows great potential in this book, a truly outstanding first graphic novel.
--
Nick Smith: Library Technician, Community Services, for the Pasadena Public Library in California.